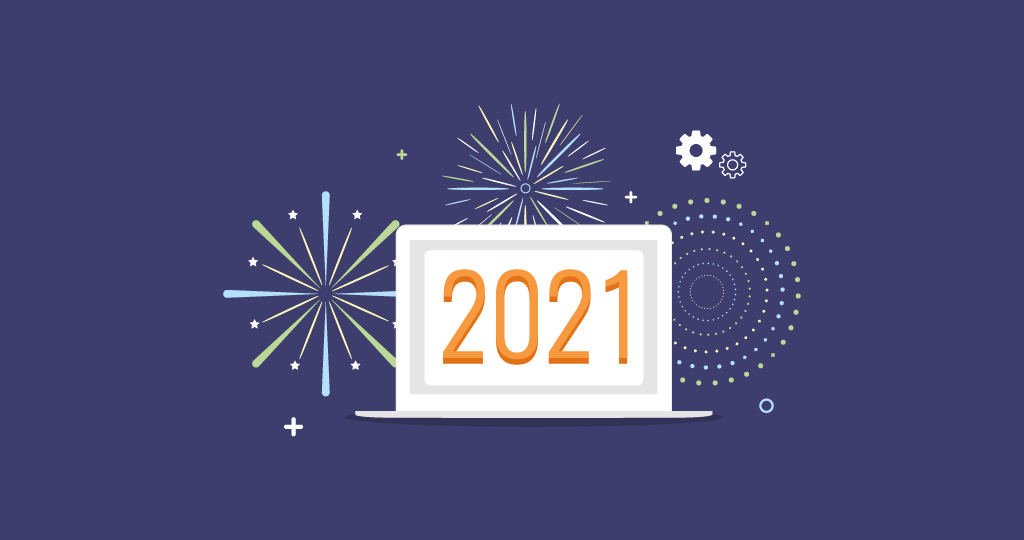 2020 has been an atypical year for many reasons. However we are sure that one thing stands out for marketers: user behavior has changed dramatically in 2020, and these changes don't seem to be reversible. Online shopping grew immensely during this last year. Black Friday and Cyber Monday achieved an unprecedented sales volume.
Of course, this isn't the only thing that has changed for marketing. But it is necessary to understand how changes in customer behavior affect online businesses, in order to adapt to the new reality of eCommerce. 🛒
Truth is, things are not going to revert back to what we used to perceive as "normal". In the new year, trends in global marketing need to be considered to avoid staying behind.
Plus many see these changes that took place in 2020 as beneficial to eCommerce stores. So how do you make the best out of this new digital marketing reality? Let's dig into a few global marketing trends that are going to remain relevant in 2021.
7 Marketing Trends for 2021
1. User-generated content
This trend in global marketing is not exactly new, but it has grown quite a bit, especially in 2020. In the next year, we're predicting it will grow even more.
But what is user-generated content? Well, as the name suggests, it is content that can be used for branding and it is created directly by customers (or users, depending on the context).
User-generated content has many advantages. First of all, it usually requires a lower investment than if you were to create it from scratch.
But the true beauty of this content is that your customers are much more likely to believe it than your usual advertising. People want personalization, and, at the same time, they want to know what actual people think about your product before they go ahead with their purchase. 🛍️
True testimonials, and any other content pieces you can get from your users, are powerful. They can be written, but the best way to collect user-generated content is to ask for videos. You can offer a freebie in exchange for a video testimonial, a discount, a coupon…
You can also create a contest in which participants create content for you in exchange for the chance to get something for free. As we always do, we advise you to offer one of your own products as the prize: you want only participants who are interested in your products, rather than those who are just after a freebie.
Another advantage of user-generated content is that people are tired of unrealistic expectations. Customers don't want to see models using your product: they want to see people who are just like them. Social media, especially Instagram, are very prone to this behavior: they are full of pictures that have been edited and airbrushed to a point that they barely resemble actual people.
Taking content that is actually real and using it as your advertising material is a great way to gain the trust of your audience and customers.
2. Branded content
Hand in hand with user-generated content, high-quality content from brands has become mandatory for any brand.
High-quality content includes different media, but also video. Gamification is also a very important facet of the new content that brands are crafting for users. Everybody loves games, and the increased use of games to promote brands has created a wave of change in digital advertising.
Create content that is engaging, whether it is fun or serious. Check your tone and analyze what you need to say and how you should say it. We strongly discourage the usage of the "in these difficult times" trope, since everybody knows these are difficult times. Consumers want distractions and products that help, rather than being reminded of all the negative things that are happening right now. It is extremely important to not be tone-deaf. 😨
You can communicate that you're there for your customers. You can be emotional if you do it right. Just think about it this way: if you were trying to convince a friend of yours to do something, what would you say?
A great example of how quality content makes the difference is this video from Ryan Reynolds' agency, Maximum Effort, for the Match app. It puts a different spin on online dating, it is fun, and even oddly cute. This is the kind of content you should aim for.
3. Social Commerce
In the last year, many social media platforms like Facebook, Instagram, and Pinterest have developed shopping features that sellers can use. These websites offered ads already (apart from Pinterest, which started displaying shopping ads in 2020), but now shopping functions are fully integrated into their feeds, making it easier for brands to sell without having to send users to a website, disrupting the shopping experience. 🏬
These new features make it easy to pair your sales content with user-generated content, mixing these two trends in global marketing. Social media is not just for brand awareness anymore: these improvements have made a few social networks a great platform for selling.
As an example, let's say you're a clothing retailer. You get a picture of one of your customers wearing your brand via social media, what you can do is link it to the products for sale in the picture. Great, isn't it? Once again, users want reality, and having actual customers as models for your products is an awesome way of giving your customers realistic expectations about your brand.
In 2021, trending topics in marketing will be all about real customers and real experiences.
4. Brand Activism
Following the global marketing trend that pushes for truth and real-life in advertising, brand activism places companies in a position of responsibility concerning social and political causes.
This is risky because the wrong message could cost you a lot of customers. It is relevant to know what your audience stands for in order to avoid going completely against their ideals, but sometimes you have to be bold.
One example of brand activism that attracts new customers is Ben and Jerry's ice cream. From its inception, the brand has been environmentally conscious, and they also use fair trade to source their ingredients. This is brand activism, but, at the same time, it's not that risky because, as you can imagine, defending our environment and helping countries in need is not that controversial.
As an example, in 2020, the brand has launched a new flavor called "Unfudge Our Future", a vegan ice cream that promotes the fight against climate change and the increased use of non-fossil, clean, and renewable energy. 🌱
This goes to show that brand activism does not have to be controversial in order to work. Of course, there are people who might not agree with this initiative, but are these the kind of customers that you would want to have? That's some food for thought.
5. Google Core Web Vitals
If you don't know what Google Core Web Vitals are, you are definitely not alone. However, they are quite important for your website's SEO efforts.
This is a new core algorithm update that Google announced in 2020, to start rolling out in 2021. Core Web Vitals will become part of the new Page Experience signal, which is based on indicators like page loading speed and mobile experience. 📱
This change will affect not only SERPs (search engine result pages) and their ranking, but also Google Top Stories. Previously, AMP (accelerated mobile pages) were the main indicator in many rankings, but Google Core Web Vitals intend to further improve the real user experience, ranking the websites that offer a better UX (user experience)  higher up in SERPs.
6. Nostalgia Marketing
When facing unprecedented challenges, remembering the past can be a source of comfort. This is one of the reasons why nostalgia marketing was a big element in global marketing trends for 2020 and will continue to be relevant in 2021.
Nostalgia can be a great source of inspiration while making everything related to it quite successful. A great example of nostalgia at work is the series "Stranger Things", which highlights many events of the 1980s pop culture, bringing back the brands, the products, and many other items from this decade.
For 80s children, Stranger Things represents a trip down memory lane, and even though the mechanisms behind our love of the past are not that easy to understand, we do know that this "time machine" effect is highly relatable and makes every content enjoyable. 🍿
In the last Super Bowl, several brands such as Cheetos, Nike, Mountain Dew, and others used nostalgia as their main theme for the biggest US advertising event of the year. And, just like it worked for Stranger Things, it also works wonders for advertising content.
7. Going Live
This trend has been growing increasingly for a few years now, but in 2020 it really came into fruition. We're talking about using live video to advertise products and brands, and also as a general communication tool. 🔧
In 2020, with governments and healthcare professionals urging citizens to stay home, live video has become a way to experience events, like music festivals, concerts, fashion shows… without ever having to leave your home.
Many bands and musicians made live sessions from their own homes. These concerts could be watched for free, using platforms such as YouTube, Facebook, Twiter, or Instagram. Twitch also grew a lot and made its content more diverse: besides the gaming streamers, many "twitchers" stream themselves while talking to their fans, offering freebies, doing makeup tutorials, and many other different activities that wouldn't commonly be streamed.
Other than that, 93% of marketers already use video. What are you waiting for?
Wrapping Up
Now this list begs the question: is your business ready for 2021? It's not all about the trends since traditional marketing methods such as email marketing, SMS marketing, and marketing automation will still be relevant and keep their roles as the most profitable channels.
That's the reason why we recommend subscribing to Platformly. The tools and features we offer are just as relevant today as five years ago, and they will continue to get you plenty of new customers. Plus, we just updated our sales CRM and we're sure you'll love it.
The post-pandemic world has brought upon us many challenges and companies like Twitter are now allowing all their employees to work from home indefinitely, and we're thinking many other tech giants will follow suit. The new reality begs for new approaches.
If you have any questions or would like to share your opinion about our list, please leave your message in the comment box. Of course, you can also find us on Facebook, Twitter, and LinkedIn. Stay tuned for more global marketing trends!
Engage and lead your audience through every step of the customer lifecycle
Platform.ly - the next-gen marketing automation platform
Learn More