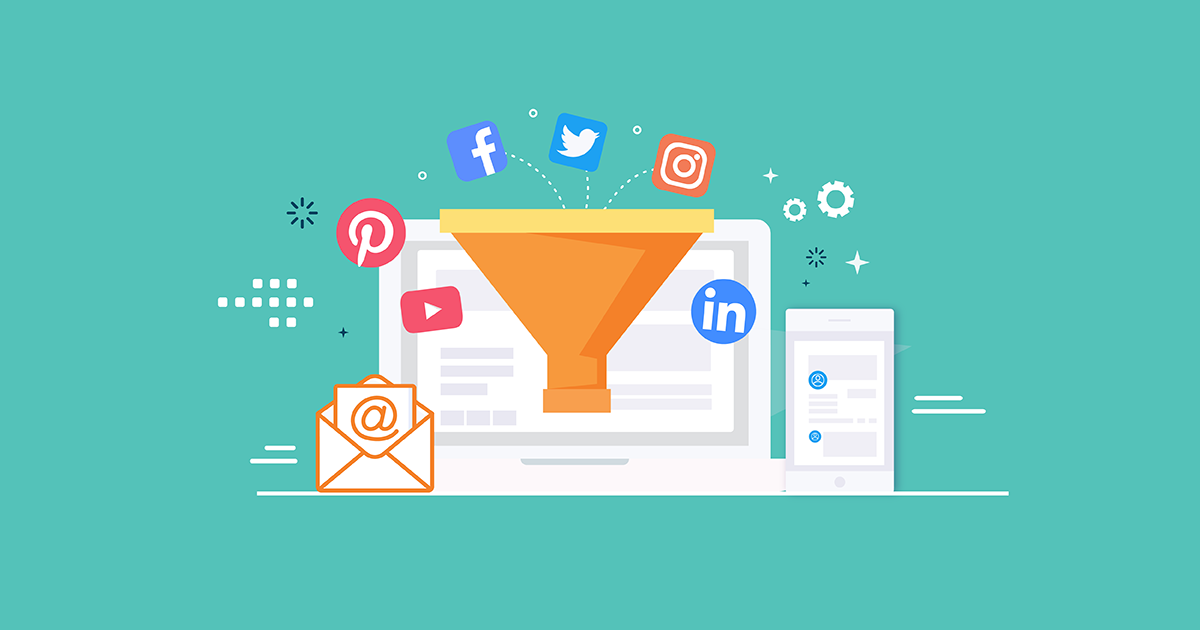 For many marketers, marketing automation is still a confusing matter. With this article, we hope to clarify some of the myths surrounding marketing automation and show you the benefits of getting a marketing automation solution for you and your team.
First of all, there's a common myth that marketing automation will replace marketers. That couldn't be further from the truth. Marketing automation just gets you out of the most repetitive tasks and upgrades your marketing work making it easier to replicate actions without having to do everything yourself.
What is marketing automation?
Marketing automation sets you free by automating some actions for you. As an extremely basic example, you can automate welcome emails for people who just subscribed to your newsletter or to your general updates.
But this is just the tip of the iceberg. Further down in this article, we'll discuss a few examples of complex automations you can get done using Platformly and our competitors' tools.
Why should you have marketing automation in place?
According to the Lenskold Group, 63% of businesses that outgrow their competitors use marketing automation. It's a lot more than half, and it shows how marketing automation is relevant to increase your sales and the growth of your company.
More and more companies are investing in marketing automation as time goes by: according to Social Media Today, 75% of marketers said in late 2019 that they currently use at least one marketing automation tool. Studies show that marketing automation is essential for sales nurturing in this time and age.
Sales nurturing is the process through which you help your leads decide to subscribe to your service or to buy your product. But to better understand the role of marketing automation in sales nurturing, it's essential to know how the sales cycle has changed. We'll explain it in the next section of this article.
How has the sales cycle changed?
The traditional sales funnel used to be pretty straightforward and could be contained in three steps. We'll just define sales funnels quickly: a sales funnel is the sum of the touchpoints that customers have with your brand until they decide to make a purchase.
It's called a funnel because your goal is to filter out the people who are "just curious" or "just browsing" and figure out which of all the people who, as an example, subscribed to your newsletter, are going to buy your product.
So, you start with, let's say, 2000 leads. From those 2000 leads, some of them won't even open your newsletter. So you're down to 700. From those 700, some will read your newsletter but will not come back to your website, which leaves you with 500 leads. From those 500 leads, let's say 70 make a purchase.
Of course, this is a very simple way to look at what a sales funnel is, but the bottom line is you start with a large number of leads and end up with a much smaller number of sales. Even though you might not call it a sales funnel, you've realized this happens all the time. It's just the way how sales go.
Coming back to how the sales funnel has changed. In the old model, as we mentioned, there were just three steps: awareness, consideration, and decision. Awareness is just knowing your brand is out there, that it exists, and which products do you offer.
Consideration is a bit obvious: your potential customer is thinking whether or not to buy from you, weighing the pros and cons… and the decision is when that lead makes up his mind about what they think about your brand and decides if they should buy from you or not.
However, as we entered the 21st century, this sales funnel has become obsolete. These same steps are still there, of course. But there are many other factors that come into play, and we'll get into that quickly.
If, before, all your customers had to do to find out about your brand was visit your website (or, depending on the product, visit a brick-and-mortar store), these days things have changed a lot. Word of mouth is still very powerful, but so are as well the many more marketing channels available for each brand.
Leads can get to you through Facebook, Instagram, or Twitter because they saw a post through a friend or you ran an ad campaign there. They can just get in touch with you directly through social media, to ask questions about your product or to clarify something they read that someone else wrote about your brand.
You're not in control when it comes to what people say about your brand. You can do brand monitoring in social media, but these channels allow everyone to speak their mind. If someone had a bad experience with your product and has a lot of followers, they're going to spread the word on social media and you'll have to clean the mess up. But this is a subject for some other time. Now let's focus on how the sales funnel has changed.
First of all, as we explained above, the touchpoint in which customers come to find your brand is much more elusive these days. Awareness can come from a Google search about products like yours in which the user finds your website.
After your lead has visited your website, unless you do something about it, they might not even visit it again for months. It might slip through the cracks, the lead might be busy, or consider your competitors.
It's also important to remember that your branding should be on point – that it should be clear what it is that you do, your core values should be easily inferred by your media and PR, and no matter how the lead gets in touch with your brand, he should be easily informed of all of this.
So, this makes the sales process a lot more erratic and difficult to keep under tabs using traditional marketing techniques. There's also the issue that your customers might go all the way through your sales funnel without ever happening to talk to anyone from your company.
They might check your website, follow your social media channels, and stay in that stage, just observing your brand activity without really interacting with you. In 2016, Axia PR reported that 84% of CEOs and VPs researched social media to make a decision on a purchase. Imagine the percentage of people who do that in 2020.
These changes have made the sales cycle longer. Instead of three steps to make a purchase, now there can be seven, or ten, or fifteen, even more. No matter what your product is, but especially with SaaS, support and onboarding are now more important than ever.
You need to have a team ready at least during business hours to answer any questions related to your product. You need to help your clients get used to your product, after you've helped them set it up according to their needs.
An onboarding call is essential: show all the features your service includes, explain how to use them, be ready to answer any questions that might come up. The purpose of this call is to confirm to your new customers that your service solves their issue by fulfilling their needs.
So, now we are ready to answer the big question:
What is an automated marketing funnel?
An automated marketing funnel combines the knowledge of the steps of the sales funnel with marketing automation. How does this work? Well, you consider which actions can help your prospects make a decision about your product and you use automation to put these actions in place without having to make them manually every time one of your prospects subscribes to your newsletter, or likes one of your posts on Facebook, as simple examples.
This process increases your chances to get sales because you decrease the risk of failing to do any of the tasks necessary to keep users on your sales funnel by automating these tasks. They will also get done at the right moment because you can schedule the time difference between your trigger and the next action.
Most marketers consider that in this new model, the awareness stage is the most important one. This is where your prospects enter your sales funnel, so it's important to capture their attention with something. With marketing automation, you can create a pop up on your website that will show up for every visitor.
What goes in this pop up is of the utmost importance to catch the visitor's attention. One common tactic is to offer something in return for their email address: let's say an ebook, a case study, a white paper, anything that the visitor perceives to have some value.
By offering some value right at the first visit to your website, you are presenting your brand as useful and a source of reliable information. If all goes well, that might keep the visitor coming back to your website. But the way you're going to capture that prospect's attention depends highly on where was the first touchpoint with your brand, as it's obvious in this new sales funnel model.
If the user finds your brand on Facebook and likes your page, you can integrate into your automations a way to use retargeting for that user to see ads for your brand promoting the same content than the pop up described, or some other offer that is significant for your target audience. It could be a free trial, a special offer like a discount on sign up, and many more options.
It's also relevant that the awareness stage goes well deeper into the sales funnel now than it does before. With so many brands competing to catch the consumers' attention, it's important to keep your prospects under tabs, reminding them that you're there, offering a solution for their issue.
Marketing automation allows you to follow your users no matter the way they got into your sales funnel. But it also plays an important role in the next step of your sales funnel: consideration.
Once the awareness phase is in motion, you need to nudge your prospects into consideration and build up their interest in your brand by using storytelling. You can do this through your newsletter, as an example, by sharing news about your brand or a blog post that performed really well.
Marketing automation allows you to have a follow-up scheme that emails your users the content you have designed for specific groups. If they signed up for news but stopped opening your emails, you have to trigger a different email than the one you triggered for the users that kept on visiting your website and opening your newsletter.
This stage begins with slowly but surely building a relationship with your prospects that will make them trust you. That's why we mentioned storytelling: you want them to know more and more about what your product is and which problems you can solve for them. You should contact them through email at a stable cadence.
As part of the consideration stage in your sales funnel, there is the twist: you can start to send them content that is more sales-geared and that instills in them the desire to have access to your solution.
You can send them case studies about your brand in this phase, case studies that explain how you got in touch with someone like them, how you assessed their situation, and how you worked out a successful solution for them through close cooperation.
White papers are also relevant in the way that you can show your insights about issues that concern your target audience and keep on working on that relationship you've built with them.
This is also a great time at your sales funnel to set some retargeting ads: while your prospects are in between awareness and a decision, use retargeting to keep them considering your brand as a viable and suitable option.
Customer reviews and testimonials are also a great content to show your prospects at this time. As people seek for social confirmation of their opinion of your brand, pass on the real comments of people who were successful using your product or service.
For the decision phase, you need to grow from sales-related materials to actual CTAs to subscribe your product. This whole sequence of different content can be automated as a drip campaign for your prospects, and the decision phase is when you'll see the real results and be able to evaluate your sales funnel.
Where are people dropping off? Can some people be placed back at another stage of the sales cycle again? Some sales require more nurturing than others.
Examples of marketing funnel automation
Using Platformly, you can set up a very effective campaign including the tips we gave you previously. Platformly integrates with Facebook as well, so you can set retargeting directly from this service without needing to move to Facebook Ads. This is an example of a marketing automation funnel that follows similar strategies to the ones we mentioned:
A visitor reads one of your blog posts and decides to opt-in using the form to get a free ebook;
Automation is set so the new email address is added to a campaign in which the ebook is sent;
His email is automatically added to a retargeting campaign on Facebook, allowing the prospect to get highly relevant ads according to his interest in your brand;
At the same time, a drip campaign goes on delivering a series of emails that are interesting to the user and inform them of what your brand offers exactly.
In this example, we used very basic automation. It can get way more complex than that; with Platformly, you can use segments and tags to track where your users are in your sales funnel and set the automations to act accordingly.
Now, let's go through a few examples of sales funnels of two popular brands that could serve as an inspiration for your marketing automation strategy.
Crazy Egg
Crazy Egg is a well-known website optimization tool that has been around in the online marketing world for a while. It allows you to track and create reports about user behavior on your website.
In the awareness phase, the brand started out with a bold move: they offered their services (that would be priced at $99 per month) for free to a few major players in the field, like TechCrunch, Mashable and other giants of online marketing. All they asked for in return was a review of their product on their websites.
To start driving even more traffic to their website, they also made use of Facebook ads. They also created high-quality content on their blog, which was truly relevant for many different segments of online marketing professionals and beginners. They used keywords to optimize their blog, sent their articles through email marketing campaigns and posted them on social media.
For the consideration phase, they had to convert leads who showed up in their website into customers. So, they added a bar right at the top of the page with a CTA offering a 30-day trial to anyone who was visiting, as well as a pop up inviting visitors to subscribe to their newsletter.
Their goal was not only to gain subscribers of their service immediately but as well to nurture sales through a sequence of emails that was triggered when the user entered their email in the opt-in form.
For the decision phase, they once again were ahead of the competition: right at their homepage, they had a clean page with just a small box for users to input their website's URL. This automatically offered the visitors a heat map of user behavior on their website to get a feel of what was being offered.
At the same time, users were directed to the pricing page immediately. This pressured visitors to make a decision by showing exactly what they were offering and for which price, and, at the same time, kept their emails in case they bounced off the page.
If visitors bounced off the page, they would be the target of a drip email campaign to convince them to come back, thus re-entering the sales cycle at an earlier stage so they could reconsider Crazy Egg's offer.
If visitors chose to subscribe to one of Crazy Egg's plans, they would be directed to the payment page which had social proof – the logos of famous brands that used their services – as well as a thorough FAQ section.
Netflix
Netflix is one of the major examples to follow on Social Media for how to drive awareness into sales. When the brand first started, this was their strategy.
Netflix is an expert at using Twitter and Facebook to promote their upcoming shows by sharing clips of impressive and interesting moments. They also have a really sassy, fun and friendly tone that permeates even their customer support.
In the consideration phase, it's relevant to notice that Netflix displays its policies for refunds and cancellations very clearly on the homepage. It's a smart tactic – this is one of the main arguments for refusal of a monthly paid service, especially a streaming one, and by offering that information right off the bat, Netflix dispels any fears that their prospects might have.
Their website is simple, with a clean design, and at their homepage, the first thing you'll see is a large blank space where you can input your email address to try the service for free for 30 days. Of course, your email is automatically added to their mailing list that, even if you cancel within the free period, will still share updates with you to convince you to come back to Netflix.
Once users have entered their email and fill out a few bits of information, they're taken to the pricing page in which they can easily choose their plan with all the details spelled out loud and clear. Netflix is big on honesty, which pays off.
After deciding on a plan, the users are taken to the payment confirmation page, where they get a warm welcome through a lighthearted and fun message that makes them feel more at ease with their decision. It has everything to be a high converting page.
These are two simple and clear cut examples of how to create a marketing funnel easily. If you look at Netflix example, their main channels are social media, email, and their own website which is carefully designed.
When you create your own marketing funnel, if you use a lead nurturing software like Platformly, you'll be able to create opt-in forms that will help you easily gather leads. At the same time, you will have access to the means of taking good care of those leads your website is collecting for you, with very little effort after setup.
How marketing funnel automation helps sales nurturing
There are plenty of ways in which marketing funnel automation helps nurturing your sales. It's the gift that keeps on giving – whether it is by helping those who fell through the cracks to get back into your sales funnel, by categorizing your contacts and prospects so you know on which step of the sales process each of them is, or by automating your messages and touchpoints to make customers go through the sales funnel in the way you want them to instead of just aimlessly wandering around.
We'll go through a few ways in which marketing funnel automation helps sales nurturing in practice and how it can help your business get more quality sales, and a higher ROI overall.
Our first example is through lead scoring. By automating your sales funnel, you can automate lead scoring. Tools like Platformly cross data between your CRM (which, in the case of Platformly, is integrated into the service), your interactions with your customers, and gives them a lead score.
Lead scoring is quite useful to understand which prospects are ready to buy and which are not, but most importantly, it helps you realize which of your prospects are your target audience and will make better customers for you. As an example, if your target is bloggers, maybe a pharmacy looking for your services won't understand your product easily enough or won't be satisfied with your resources.
Marketing funnel automation also helps you make a data-driven decision instead of using pure theoretical thought when implementing your marketing strategy. With Platformly, you can use both dashboards that offer you real-time data and reports that give you insights into your past sales activity, allowing you to compare between different periods, segments and much more.
By using reports and dashboards, actual data, to make your marketing and sales decisions, you have a lot less guesswork involved in the process. Data-driven decisions equal more predictability and better results overall, improving your ROI and increasing your revenue through carefully crafted analysis.
Personalization is also one of the crucial pieces of your marketing automation strategy. Segmenting your contact list according to purchases, website behavior and interactions with your brand will help you target each of the segments in your prospects and current customers.
This segmentation along with marketing automation techniques (once again, you can do this on Platformly through the CRM and marketing automation features) allows you to offer to each user an experience that will resonate with them and fulfill their expectations about your brand.
Platformly's marketing automations allow you to set as many automations as you need to guide your users across your sales funnel. These automations can range from drip campaigns with several variables to Facebook retargeting, newsletters, and much, much more. All these automations personalize each of your users' experience with your brand.
Personalization is essential for any successful sales funnel in this time and age. Users have no patience for a one-size-fits-all approach anymore or for ready-made messages that are the same for all your prospects; to sum up, messages that aren't well thought out for every segment according to that segment's behavior will not cut it these days.
To close this series of examples, marketing automation makes it simple to track your user journey across your sales funnel, choosing the right channels and messages according to each step of your customers' individual cycle as they evolve from prospects to customers and advocates.
Wrap up
In conclusion, marketing automation has become a valuable asset in every marketing strategy. It frees up your marketing department to do more planning and less repetitive tasks, but it also affects your sales funnel by allowing you to gain more control over user actions and how your company communicates.
By automating your marketing funnel, you'll be able to nurture sales effectively, tracking your users all the way across the sales cycle and generating meaningful interactions accordingly. However, you must understand that the sales cycle no longer ends in the decision phase.
Users need more support and onboarding with most services, especially SaaS. Even if your service is not a SaaS, support and customer success specialists are essential to your brand's marketing and sales strategies.
Marketing automation prevents your sales funnel from becoming erratic and chaotic with all the possible touchpoints users can now have with your brand online. If you're not using a marketing automation solution yet, it's time to consider Platformly.
As usual, if you have any question, please let us know on the comment section and we'll be delighted to help. If you want to find out more about Platformly news, stay tuned to our social media: Facebook, Twitter, and LinkedIn.