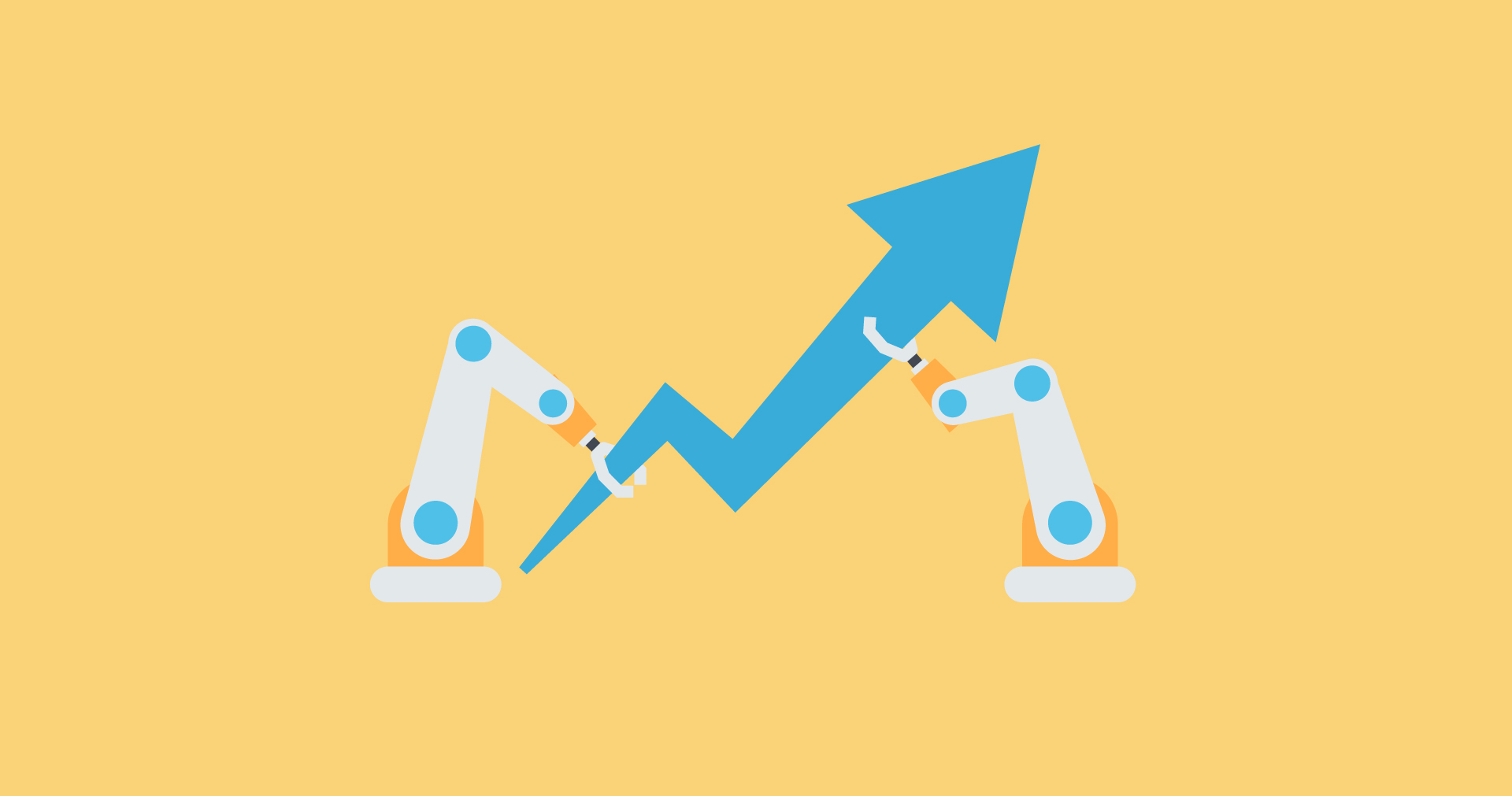 By now it's a well-known fact that content is king. We heard about it on seminars and trainings, we've seen statistics and whitepapers praising it, we are fully aware that our competitors allocate bigger and bigger shares of their marketing budgets to content creation and distribution and we know that we better up our game as well if we don't want to be left behind.
In this article, we will discuss how to marry content and automated marketing, how exactly it can help you with your content marketing strategy and what benefits you can expect from it.
Let's start with a simple question:
What Does The Future of Content Marketing Look Like?
To answer this question in full we need to take a look at the context around it.
This infographic illustrates so-called "Content Shock" — an impressive amount of messages, videos, emails and other kinds of content coming to life on the Internet in 60 seconds.
With social media and other content sharing platforms, everyone is a content creator now and competition for consumers' attention is stronger than ever. Marketers have responded with producing even more content and putting it in front of consumers everywhere it was technically possible.
In fact, content creation efforts have been so successful that there are projections showing that content consumption growth has reached stagnation point while content supply rate is climbing up faster than ever.
With this abundance of content, you can easily imagine how it inevitably merges into virtual white noise for end users trying to find on the Internet what they came there for. But even if all of it was genuinely great, people still have limited time to spend consuming it.
So what does it mean for marketers? It means that consumers will get even more picky about what they will read, look at or click. It means that "good enough" is not good enough and good for everyone is, well, good for no one anymore.
Why Is Content Personalization Important?
When reading various experts projections and opinions about future trends in digital marketing, this one keeps popping up more often than others. Marketing thought-leaders and visionaries agree that content personalization is the direction we should be taking to cut through the informational clutter to our consumers.
One way to define content personalization would be to say that it entails tailoring your message to the right audience and delivering it at the right time in the right place.
Another way is to say that it shows you care. You care enough about that one specific customer, his or her needs, likes and dislikes, preferences and aversions, to go to the great length of creating and delivering the content that fits them. It shows you value their time too much to offer them generic ads and spam their mailboxes with "one-size-fits-all" promotions. And this is by far the most important message you should be trying to get across to your consumers.
How Content Personalization Helps to Drive Sales?
First of all, let's quickly revisit the basics: content marketing is one of the strongest sales-driving forces out there. Why? For once, people are expressing their will to read company-created content and admit that it directly affects how they feel about the brand.
Need more concrete proof? Studies report 3 times more leads at over 60% less cost.
And since personalized content is content on steroids, you can expect even greater results in sales once you implement it in your business model.
With smart content personalization strategy, customer journey becomes a visit to your beloved grandma. You feel surrounded by attention and care: the cookies are on the table, the milk is just the right temperature and there are no onions in the meatloaf.
If you think about it, it is not that different from how marketing automation software leverages a wide variety of tools from email marketing automation to retargeting and dynamic content customization to suggest the most relevant content to consumers when they are ready for it the most.
3 Ways Marketing Automation Can Help With Content Personalization
While there are myriads of various content marketing automation software and tools ( we will touch on some of them), let's see where exactly in your content marketing journey you can expect help from marketing automation.
Way 1:  Creation
While we do already have fully automated bot-writers, the end result of their work leaves much to be desired, so if your goal is to produce high-quality authentic content, you probably don't want to use them.
However, there is a number of highly useful tools providing content creators with insights into what has been resonating well with the chosen audience in a specific industry or around particular topics. This helps to laser-focus your blog posts or articles on what is "hot" right now as well as build a well-informed long-term content marketing strategy.
Having identified several core groups within your target audience you can create content fine-tuned for each of them and stand out among the competition.
Check out: BuzzSumo – one of the most popular content discovery platforms out there.
Way 2. Curation.
Curated content is a great tactic to stay on top of minds of your audience while leveraging content created by others. It's smart, it's fun and it can take a whole bunch of your time if not handled properly. That's when you might want to look for one of those platforms looking for the best content relevant to your business niche. (Keep in mind, that, similar to the point above, you don't want to hit all your audience with the same content, so divide and conquer by delivering well-matched curated content to different groups.)
Check out: ContentStudio – easily identify and curate third-party content relevant to your audience.
Way 3. Distribution And Analysis.
Curated or original, content is no good when sitting only on your hard drive. Any marketer will tell you that putting it in front of your audience is one of the most challenging and time-consuming tasks.
The sheer volume of various content distribution channels is overwhelming. There is email, and social media, and blogs, and sponsored content, and native ads, etc, etc. All of these channels are expected to be highly personal these days – your customers are at different funnel stages, they have a different history with the company, and so on.
And it's is not enough just to put it out there – most likely, you also want to know if all your efforts amounted to something feasible for your business, right? So you need to track and monitor all these activities, put it into context, analyze and finesse your strategy.
Email marketing, as one of the most important channels of content distribution with traditionally high  ROI, deserves a closer look.
A properly-executed audience segmentation will allow you to identify various sub-audiences in your email list with deep insights into their demographics, interests and pain points to craft custom-tailored emails for each of the audience "buckets".
Delivering highly relevant content not only boosts your brand engagement and conversion rates but also informs your future content strategy. You will be able to better understand what educational pieces your audiences might be interested in and come up with the targeted promos for your different audiences to better serve their needs.
Check out: Platformly – much more than just a tool, but rather an intelligent marketing automation platform boasting a whole suite of business automation tools including CRM, link tracking and comprehensive analytics dashboards so that you always know ROI on each of your content pieces.
Create, Personalize, Automate.
To sum it up, if there is only one business improvement you can make right now, our advice is: invest in content and do it smart – go with automation. A good marketing automation software will boost your content marketing strategy, help you personalize it and bring in both short- and long-term benefits your business can't afford to lose.
Engage and lead your audience through every step of the customer lifecycle
Platform.ly - the next-gen marketing automation platform
Learn More