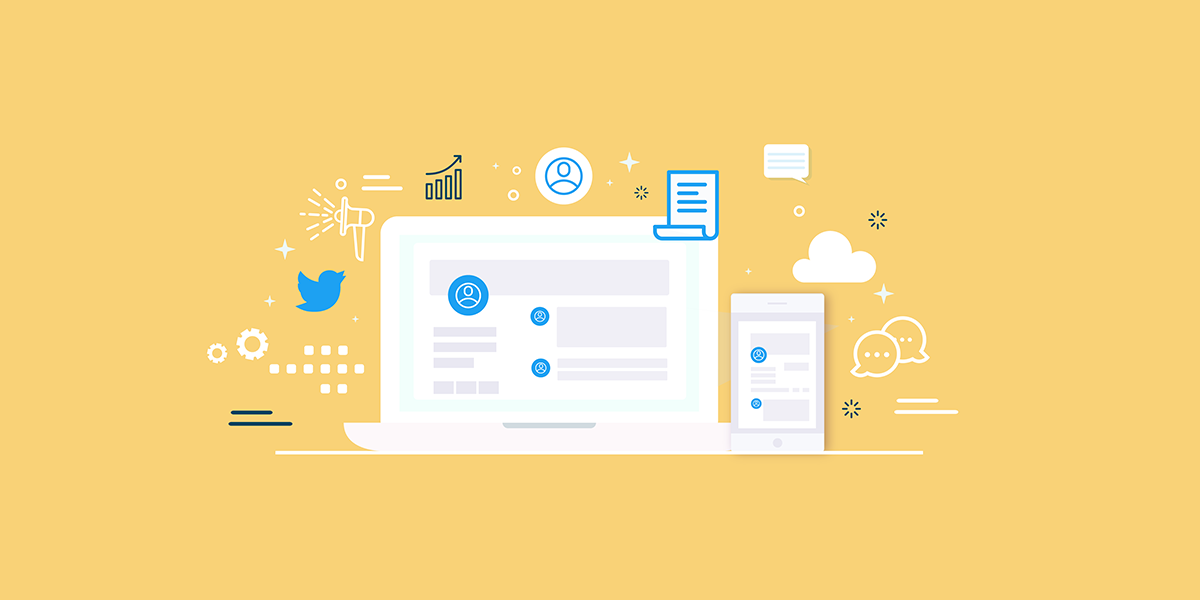 Sometimes, we all need a little bit of inspiration. And when it comes to marketing, we all know the inspiration and original insights are a difficult thing to come by. It seems like everyone around us is saying the same thing: so it's great to have some influencers from different areas giving you great advice to enhance your marketing work.
We have divided this article into five categories: Growth Marketing, Email Marketing, Content Marketing, Social Media Marketing, and SEO. So, on to our list!
1. Growth Marketing
Author of the bestseller "Hacking Growth", Sean Ellis was actually the person behind the term "Growth Hacking", trying to describe the growth that companies like Facebook, Amazon and, AirBnb were sustaining, seemingly without effort, but with plenty of work behind the scenes. These days, he is the CEO and founder of GrowthHackers, a company that specializes in doing just what made him famous – growth hacking. He shares excellent tips about the subject in his Twitter account, which has almost 128k followers.
Brianne previously worked at Zendesk, managing work with startups. These days, she's an investor with her own company, Work Life, a fund that invests in apps that help people manage their life/work balance. She's also an investor in Voiceflow, Webflow, Command E, and Tandem, along with 20 other startups. She's lead a life as a growth hacker since the beginning of her career, and she has not only professional advice for other growth hackers but personal stories about how she became the successful investor she is today. 
With 13 years of growth marketing under his belt now, Sujan Patel is the CEO of Web Profits, a company that helps other brands grow with his insights into their issues and what's stopping them from achieving their full potential. He also works on Ramp Ventures, developing his own SaaS companies. He is also behind the highly popular startup Mailshake. RightInbox is one of his SaaS projects that are dear to his heart, and he lets that be seen in his Twitter account. Expect sage advice from Sujan Patel in his tweets on how to grow your business.
Before being the CEO at Reforge, Brian Balfour had a long career as VP of Growth at Hubspot. He has helped companies grow to millions of users along time, and he specializes in growth and user acquisition for a large number of clients. He writes detailed guides that have been published not only on Hacker Monthly and OnStartups, but also on Forbes. You should follow him on Twitter for his advice on growth hacking and user acquisition, which he is always eager to share.
As of this moment, Andrew Chen just published a new essay on the red flags and metrics investors watch out for in startups, with a full-on 80-slide deck included. There is a whole thread explaining his slides, and his Twitter is well useful for growth hackers. He has written for the New York Times, Fortune, and more well-known magazines. If you're into growth hacking, you have all the reasons to follow him.
Fareed Mosavat has a pretty humble Twitter description: "Helped build some things you may have heard of." In fact, he's Direct of Product at Slack, which is a feat that most people would brag about. In Fareed Mosavat's Twitter handle, you'll find a lot of insights into his work, his views on politics, and anything else related. Before moving on to Slack, he was a freelance advisor for many companies like Tap Lab, since acquired by Warner Brothers. 
Noah Kagan has an impressive curriculum, from having worked at Facebook and Mint at the beginning of both companies. These days, he spends his time running Sumo, AppSumo, and KingSumo, in which he helps entrepreneurs grow their businesses. He not only shares his knowledge about growth hacking on Twitter but also on his podcast called "Noah Kagan Presents", in which he talks with "the most interesting people in the world". 
As the founder of Elumynt, William Harris helps e-commerce and SaaS businesses improve their revenue and user growth using modern and innovative techniques. He is also the Head of Marketing for Sellbrite, a SaaS that focuses on growth hacking for e-commerce companies. William Harris also collaborates with Fast Company, Entrepreneur, and The Next Web. His Twitter account shares a few articles he writes constantly, and also funny personal stories and bite-sized jokes. 
Eric Siu is the Chairman of Single Grain, a full-service digital agency with offices in Los Angeles, San Francisco, and New York. He is also CEO and co-founder at ClickFlow, an SEO product. Siu also shares his knowledge at the Marketing School podcast with Neil Patel, in which they talk about marketing and growth hacking. His podcast has over 12 million downloads at the moment. The Chairman of Single Grain also interviews famous marketers and CEOs at his show Growth Everywhere. You'll find his Twitter to be highly relevant if you're into growth hacking. 
Cho is the CEO and co-founder of Unsplash, the free stock image bank. Previously, he co-founded and was the CEO of Crew Labs, which he dropped after the company was bought by Dribbble. He's based in Montréal, Québec, and he talks about his entrepreneurship and many other subjects related to his life on his Twitter account. He also writes on Medium about growth hacking and marketing in general. 
2. Email Marketing
White is Head of Research at Oracle, and you can tell from his Twitter profile he's healthily obsessed with email marketing, having written the guide for "Email Marketing Rules" on its three editions and authoring more than 3 thousand posts about Email Marketing. Previously, he was Research Director at Litmus.com and a columnist for Marketing Land and Mediapost. His career revolves all-around email marketing, and you'll enjoy his insights on your timeline.
Straight from the Netherlands, Van Rijn has been working as an email marketing consultant for 13 years now. He writes on Email Monday, his weekly newsletter, about his experience and gives plenty of wise tips on how to ace your email marketing. He is an independent consultant who also deals with marketing automation, which makes his insights quite interesting to follow on Twitter. There, you'll find links to all his posts and articles, and a few shared with other writers. 
Kollas does VP, Strategy and Analytics at BrightWave, and has a long experience with email marketing – but not only. Previously, he was VP and dealt with Global Services for Cheetah Digital. He focuses on solidifying customer relationships and improving results with the existing customers through email marketing and other modern techniques. He's quite active both on Twitter and LinkedIn, where he imparts his wisdom on email marketing, deliverability, data, strategy, and leadership.
Until last month, Justine Jordan was Head of Marketing at Help Scout – these days, maybe she decided to go solo. It's not difficult for her, she has had a career of eight years at Litmus as VP of Marketing and Marketing Director and previous experience as well before she joined Help Scout. However, even though she might be out of Help Scout, she never loses her email marketing roots – she specializes in sustainable growth and maintaining relationships with customers through email marketing, and you'll love her Twitter for her personality and insights. 
London-based Elliott Ross works with Taxi For Email, a marketing-friendly email creator that you can incorporate in your ESP. If you're looking for a specialist in building emails for marketing, he's the one. He founded Taxi For Email, and has been their CEO ever since 2013. He's also the Managing Director and Founder at Action Rocket, which has a weekly newsletter you'll love (visit their website to get it). His Twitter handle offers email marketing advice and serious input on how to improve your emails, not only from his own ideas but with curated posts as well. 
Storey is the CEO and founder of the email marketing agency Enchant. The agency helps brands reach their full potential through email marketing, paid social media, inbound and CRM. Philip Storey lives and works in London and you should definitely follow his Twitter account for some British humor full of sarcasm, advice on email marketing and other paid advertising media and much more. He's also a CRM specialist and marketing automation consultant.
Matthew Lloyd Smith calls himself "principal" at Fathom and Draft, a web design agency that Smith calls "a digital product studio". Regular naming conventions do not apply to him. However, he recognizes he's the CEO and founder of Really Good Emails, a company that curates design, code, and resources to improve email marketing. In his Twitter account, Smith writes about everything he's interested in: development, email marketing, being sober, and life tales of woe and hope. 
Heading the email marketing consultant team of Holistic Email, Kath Pay is one of the thought leaders in the industry. Her Twitter handle mentions she's famous for "bringing marketing back into email marketing". She is also a world-renowned speaker and trainer who spreads the word about "holistic email marketing", a term she created herself. Her London-based team includes the most experienced and successful email marketers in the industry, and they're not afraid to flaunt it. Follow Kath Pay for cutting-edge tricks in the email marketing industry. 
The founder and CEO of BrightWave has a lively presence on Twitter and LinkedIn, where he imparts his wisdom on email marketing and CRM, both of BrightWave's strongest suits. He also authored The New Inbox book about how email marketing keeps on shaping digital marketing in the new mobile world, but that's not his first book. He previously penned The Truth About Email Marketing, a must-read if you're interested in email marketing. His Twitter account is one of those that you can't miss. 
David Daniels is the CEO of Relevancy Group and considered to be one of the major thought leaders of the industry. Relevancy Group specializes in email marketing and data analytics for email, and publishes its original research into these subjects to which you can subscribe. It's heavy reading, though, and more suited for those who are heavily into data analytics. However, it could be an interesting subscription if you're a stats buff and really want to learn everything you can about email marketing. Follow his Twitter account for really interesting insights from this award-winning thought leader. 
3. Content Marketing
The creator behind Copyhackers has a lot to say: of course, she's in the content marketing business. Copyhackers hosts Zoom Sessions for those who want to learn more about content marketing, which are announced on Wiebe's Twitter, so you don't want to miss out. But Joanna Wiebe is also co-founder and Head of Growth at Airstory, a company which has a goal to turn people's ideas into stories. For insights into how to turn great content ideas into (digital) paper, follow Joanna Wiebe on Twitter and LinkedIn. 
Ann Handley is Head of Content at MarketingProfs, and, wouldn't you know, is also a Wall Street Journal best selling author. She can't get enough of writing, and it's easy to see why – her words are precise and sweet, and you'll find from one of her latest LinkedIn posts she quotes Paul Graham on "I think it's far more important to write well than most people realize", in a post in which she titled "Why I Write". For her, telling stories is just part of life. You'll love her Twitter account if you're into content marketing, and even if you're not, her tweets will keep you enraptured. 
Directly from Australia, there comes Jeff Bullas, bestselling author, keynote speaker, marketing blogger, digital strategist and, last but not least, digital entrepreneur. His mission is to improve people's lives by using techniques that enhance their effort in work for a better work/fun balance. He tries to inspire his followers every day through his tweets and LinkedIn posts. He mainly writes articles on his website, in which he shares tips for growth through content writing, but his Twitter account is alive and well and you'll love it for his content marketing tips. 
You might have heard about Ramit from his bestselling book, "I Will Teach You To Be Rich". His book is a New York Times bestseller, and he loves to write about business, money, careers, and psychology. He's a content writer like not many: he mostly writes about what he wants, and he always has an audience no matter what he writes about. He's a really interesting person that you'll love to know from his tweets. They're divided between posts about his articles (which you really should read), questionings like "What if buying a house isn't really the American Dream", saving money, and much more.
Straight from Ohio, Joe Pulizzi has six books under his belt by now, including his debut novel "The Will To Die" that is available since December of 2019. He's also the founder of the Content Marketing Institute and co-founder of The Orange Effect Foundation, which helps kids with speech disorders to effectively communicate through therapy and education. If this doesn't make you like him, you have no heart. The Content Marketing Institute helps future marketers learn through insights, tips, and learning resources. Follow Joe Pulizzi on Twitter for plenty of interesting thoughts on content and writing in general.
New York-based Joe Lazauskas is Head of Marketing at Contently, which powers the world's highest-performing content marketing programs, according to its Twitter handle (Contently's, not Joe Lazauskas). He considers himself a marketing and technology journalist on his LinkedIn profile, but he's much more than that. He also co-authored The Storytelling Edge with Shane Snow, a fan of gonzo journalism. All in all, he's a great author to follow on Twitter and LinkedIn if you need inspiration for your content marketing job or if you're learning the trade. 
Brittany Berger is a Content Marketing Consultant who manages Productivity and Self-Care using her platform Work Brighter. The company helps people personalize their productivity in order to avoid burnout and helping each person with their own self-care: the company's philosophy is that you create your own rules for a better work/life balance, and it helps you understand what works for you. Last Brittany Berger broadcast was about what The Sims 4 can teach you about self-care, productivity, and taking care of all of your needs, so you know you'll have fun with her Twitter account and learn in the process. 
Lilach Bullock lives between London and Israel and is a content marketing specialist considered a thought leader among her peers. She is also a well-known speaker on Digital and Tech, having almost 102k followers on her Twitter handle. For more than ten years, she has been helping companies boost their traffic, leads, and conversions through content writing. She is an expert and loves to share her knowledge through her Twitter and LinkedIn accounts. You should definitely follow her, even if content marketing is not your thing. 
CEO at Mobile Monkey, Larry Kim lives in Boston and previously had founded WordStream, in which he was also the CTO for almost ten years. He's also a blogger, writer of "Marketing & Entrepreneurship", the #1 marketing publication on Medium. He's, in fact, the eighth most-read blogger on Medium, which would be enough to make you follow him on Twitter. He's also a columnist for Inc, in which he writes a column named "In the Trenches", about start-ups and marketing. Follow him on Twitter for all things marketing-related and much more. 
Straight out of Texas, Julia McCoy is a Content Hacker (a term she coined herself), author and content marketer. Her latest book is an autobiography called "Woman Rising, A True Story", in which she tells her life story so far. It will hit the stores in February, but until then, you can read her posts on LinkedIn or her tweets, in which she tells a lot about content marketing from the two companies she is a CEO in: Express Writers and The Content Hacker. 
4. Social Media Marketing
CEO and founder at Social Media Examiner and Social Media Marketing World, Michael Stelzner is one of the thought leaders in the social media marketing industry. He also hosts the Social Media Marketing podcast and is an author. His white papers are famous in the industry for bringing interesting insights into the world of social media as a marketing tool, and his twitter account is one of the best places to search for inspiration about social media. He has almost 180k followers at the moment.
Sam Hurley's Twitter account is more inspirational than anything. He has traded the description with his professional accomplishments for "Life's experiences lead to new perspectives, and those I have gained. Thanks to everyone I've met along this journey!", which sets the tone for his tweets. He writes about life, marketing, and social media strategies. You'll love following his quest for inspiration and new challenges, and his social media tips are gold. 
Donna Moritz is a keynote speaker in the marketing and tourism industries, and her experience in marketing spans eighteen years now. She is well versed in content strategy for social media and more, and she is a Digital Content Strategist, Social Media Trainer, Visual Storyteller and also does Visual Content Strategy for Socially Sorted, which has been her work home for the last nine years. Her Twitter account points to all her articles, which are a perfect read for those interested in storytelling and social media. 
California-based Mari Smith is a thought leader in the social media business, a Facebook marketing expert, speaker, and author. This January, she's hosting a free webinar for marketers about the future of Facebook marketing, and if you have tuned into her tweets you wouldn't forget about it. If you want insights about how to perfect your marketing on Facebook, you'll love Mari Smith's Twitter account. It's full of sound advice on how to improve your Facebook marketing, being her main expertise.
Another influencer from California, Neal Schaffer is a keynote speaker with a track record in social media and management, so you'd better pay attention to what he has to say. He's also the author of "Age of Influence", out in March 2020. He's a Digital Consultant as well and as such, his Twitter account is full of examples of good social media at work. He has over 220k followers on Twitter, so we're sure you'll enjoy his tweets as well.
A Live Video evangelist, Ian Anderson Gray helps companies unleash their creativity through live video experiences and he's an expert in video for social media. He co-founded Select Performers Web Solutions and founded Seriously Social, although he doesn't consider himself a CEO – he prefers to be a speaker, coach and "live video & social media tool guy". Talk about a hands-on person. His Twitter is full of good advice about live video, and he's also constantly re-tweeting from interesting accounts for social media marketers. 
Founder and CEO at Spin Sucks, Gini Dietrich has been making this company work for almost fifteen years. Spin Sucks has also turned into its own book, about the blog after it is named. Dietrich is also the CEO of the agency Arment Dietrich, an integrated marketing communications company (which is now named Spin Sucks as well). You'll love her insights into the world of social media marketing, and her retweets always bring something interesting to the table. 
Peg Fitzpatrick co-authored "Art of Social Media", a must-read for you who are aiming at being the best in social media marketing. She considers herself a "Visibility Strategist", to add up to her roles as Marketing and Social Media Manager, and Content Creator. You'll be pleased to know the other author of "Art of Social Media" is thought leader Guy Kawasaki. If these credentials aren't enough to make you follow her, we don't know what will. Her Twitter account is both informative and inspirational and has plenty of useful tips for social media marketers and content creators.
Rebekah Radice's Twitter account has a bit of everything: from life advice to social media marketing strategy tips. As an entrepreneur that scaled her business from zero to over 1 million in less than 12 months, she has a lot of useful things to say – and that means how to take good care of yourself as well. A great work/life balance is essential for success, even if you believe you have to work harder to achieve your goals. There's no use in being successful if you're not happy. If you agree, you'll love Radice's tweets. 
Jasmine Star is a photographer and business strategist straight from Newport Beach, California. Her goal is to help entrepreneurs upgrade their social media presence for their brand and themselves, and she's quite successful at that with over 116k followers in her Twitter account. She's been a solo entrepreneur ever since 2006, when she dropped out of Law School to follow her dream of being a photographer. This led her to where she is now – a business strategist with a strong emphasis on social media for growth. You'll love her tweets!
5. SEO
The man behind the behemoth that is Moz (now SparkToro), Rand Fishkin is one of the internet's most widely known men. He has more than 400k followers on Twitter, and while that is not always important, in his case he has plenty of relevant information for you to go through while you scroll endlessly on your Twitter feed. He's also the author of "Lost and Founder", a book about his experience as a startup creator and which adds a lot of insights into the world of startups. He tweets daily about marketing, SEO, startups and much more.
Google's official search liaison, Danny Sullivan, is a must-read for anyone who considers themselves an SEO expert. From him, you get news directly from the best source to understand SEO: Google itself. Even though, as is the case with Matt Cutts, we understand there are a few things he cannot share with the general public, his Twitter account is both informative and fun, with info about sci-fi, technology, TV and much more.
CEO and Founder both at Credo and Single Geared, John Doherty is an SEO veteran who isn't afraid to share his skills with anyone who's interested. Credo connects companies and brands with the right agency or marketing consultant for their needs. His company finds digital providers for SEO, paid search, social media and more. He also has a personal website in which he blogs about the entrepreneur life. In his Twitter account, you'll find SEO and entrepreneurship tips, and a few tidbits about his personal activities.
Spanish Aleyda Solís works from Madrid, at the company she founded herself: Orainti. She is also an SEO consultant for her team other than just the founder. She was the European Search Personality of 2018, and that's not for nothing: she's also the founder of Crawling Mondays, Remotersnet and Mujeres En SEO (Women in SEO, in Spanish). In her Twitter account, you'll find insights, news, webinars, and much more that will help you get professional in your SEO efforts. 
Dan Shure has a fun Twitter account for sure. He's the SEO consultant for WGBH, a Boston radio that is often compared to NPR. He's also an SEO consultant for WGBH's PBS shows and the Harvard Business Review, so he knows what he's talking about. He's also the owner of Evolving SEO, an SEO consultancy team. He's also a podcaster and musician, so his insights go way beyond SEO and into the worlds of music and podcasting. If you're a fan of SEO, electronic music and tech jokes, this is the account to follow.
From his past at Moz, you know you're in for a good read following Cyrus Shepard's Twitter account. He's been the lead SEO and strategist for several external projects, but his current baby is Zyppy, in which he's the Founder. Zyppy is a digital media company heavily focused on SEO work, and Cyrus's Twitter and LinkedIn accounts are quite a treat for those interesting in learning more about SEO. Cyrus Shepard is also a keynote speaker and blog writer whose views trespass into Twitter, with tidbits of precious information.
Another SEO giant based in Spain, Fiorelli is the founder of The Inbounder, a major digital marketing conference in Madrid. He's a Senior SEO and inbound marketing consultant who founded IloveSEO.net. He is also a Moz Associate, which includes helping out the Moz team with his experience and expertise. IloveSEO.net is a search and web marketing digital agency. His Twitter account is a must-read for all things SEO.
Marie Haynes started out her career a long time before that, but recognition came in 2008 when the Google Penguin update came out. She was able to see what others couldn't, and that made her a leading voice on the subject. She has her own SEO consultancy firm of which she's the sole founder and owner, and her Twitter account is a great place to get some of her ideas and insights about how to bring your SEO work to the next level. 
If you've used Ahrefs before, you've probably marveled at the wonders of SEO this tool can offer. Well, Tim Soulo is a great part of that, as their CMO and Product Advisor. He's based in Singapore, and in his pinned tweet at the moment, he shows off Ahrefs' headquarters in Singapore for the curious. His Twitter account is quite funny, with productivity hacks (like creating a "Can Wait" folder in your email that you'll never look into) and tips on SEO that will be life and time-saving. Follow him now to get in on the fun!
Last but not least, Michelle Robbins is also a marketing influencer which you should follow on Twitter and LinkedIn. Her focus on data science and analysis is passionate and will get you plenty of great insights for your work as a marketer. She was the Founder at Betagirl Web Development and spent eleven years at Third Door Media as the SVP of Content and Marketing Technology. She considers herself a "caffeine based life form", which tells you already that following her will be a nice ride. These days, she is the VP of Product Innovation at AimClear
Wrap up
In this article, we tried to bring you the best influencers in marketing around the world. We have a bit for everyone: content marketing, SEO, growth hacking, social media, and email marketing. Following these influencers will give you daily insights on how to improve your marketing game, using tips from the best of the industry. 
Engage and lead your audience through every step of the customer lifecycle
Platform.ly - the next-gen marketing automation platform
Learn More