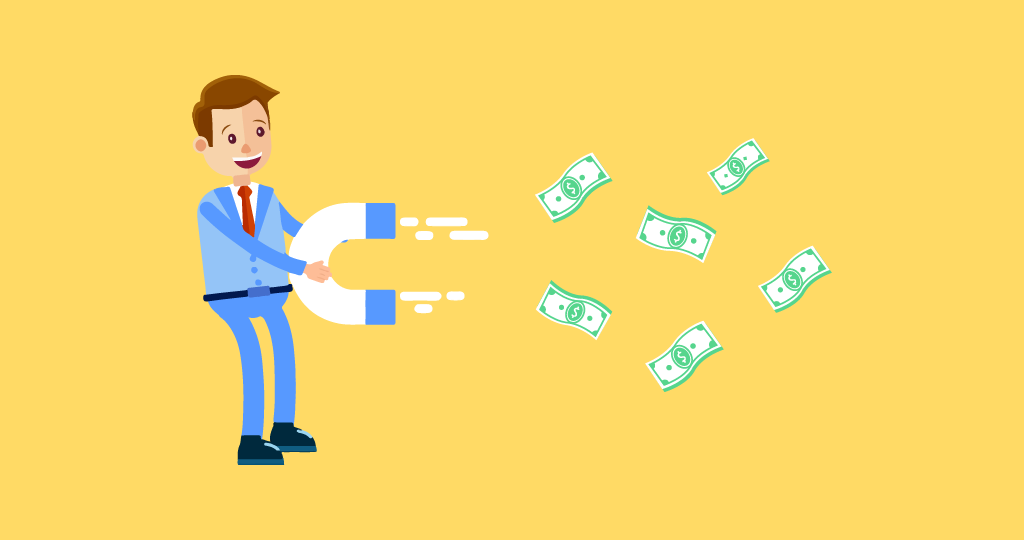 Even though the expression "lead magnets" might be unknown to you, you're most likely familiar with its practice. A lead magnet is something you provide entirely free to prospects in exchange for their contact information.
There are many ways to go about this and to make lead magnets profitable for your business, and that's what we'll explain in this article with a few lead magnet ideas and examples. There are many things you can use as a lead magnet: cheat sheets, white papers, ebooks, templates, infographics, reports… the list goes on and on.
According to your sales funnel, you can provide several lead magnets at different stages of your leads' progression into customers. Of course, there are lead magnets that are more adequate for certain stages of your sales funnel.
To understand which lead magnets you should use and at which point, we have prepared this article about all the types of lead magnets you can use, why and when.
What's a Lead Magnet?
As we mentioned previously, a lead magnet is something that you give out for free in order to collect leads, therefore its name. What you're going to do is offer (and then deliver!) to your website visitors something in exchange for their email address.
What you offer should be something that will help your visitors somehow with the freebie you're giving. It's got to be something that your prospects cannot refuse – so how do you do that? We'll explain in a bit.
Once you have your visitors' emails, you can use them to send updates, promotions – anything that might be of interest. Of course, be careful how you use their contact and with the kind of content you sent them. If you want to find out more about this, please check our article about marketing funnels. If you're a Platformly user already, you can easily create lead magnets for your business. We also offer native integration with Convertful. If you're interested in learning more about this integration, please refer to this page.
The Anatomy of a Lead Magnet
In order for your lead magnet to work exactly as you want it to, there are a few factors that you should take into account.
Since a lead magnet is something that you offer, it has to be clear to your website visitors what it is exactly that they are getting from you in return for giving you their email address. So, these are the characteristics of a great lead magnet.
First of all, your lead magnet has to solve an issue that your customer has right now. If you're not giving out something that has an effective solution for a real problem, it's not going to be worth it.
Second, your lead magnet should be a quick fix for something. The solution you offer should provide a fast delivery in terms of results.
Get really specific. If your lead magnet tries to appeal to a lot of different targets, it will fail. Stay true to your target audience and offer something that is interesting for them and extremely specific to the people that you're targeting.
Being general seems like a good idea, in theory. But in practice, it pays off to be specific and straight to the point. Offer something your customer hasn't thought of,that is within your area of expertise and strictly related to what your customers need.
Your lead magnet should also be easy to read or use. If you offer something that is not helpful because it requires a lot of instructions or specific previous knowledge to make it work, it's not going to be an effective lead magnet. You want to help your users, not confuse them.
The value of your lead magnet should also be high. What does this mean? It means it must be something or some information for which your customers would pay actual money for. It can't be anything that could be easily gotten online and for free.
Instant gratification comes into play as well. If you promise something in exchange for your leads' contact, you have to deliver immediately in order to avoid frustration. How would you feel if you had been promised something great, but then it takes ages for you to receive it?
That's why it's important to provide whatever it is you're offering as soon as possible. If it is a resource that you have ready, share it immediately after you get the opt-in form filled.
The last factor in what makes a great lead magnet is that it shows expertise in its subject. It shows that your company can be trusted to do a great job because you know what you're talking about.
So, now you know what lead magnets are and what makes them useful for your users. But what should you use as a lead magnet? We'll explain soon.
Types of Lead Magnets
Lead Magnets can be divided into five different categories:
useful;
educational;
entertaining;
bottom of the sales funnel;
community-building.
Useful lead magnets are the epitome of a lead magnet. They offer an immediate solution to a common problem for your prospects. They make your prospects trust you by offering something that helps them straight away.
Educational lead magnets are a bit different, although it might be easy to confuse them with the "useful" type. When it comes to educational material, it can be a white paper or any other type of content that teaches your prospects about something relevant to them.
The difference between useful and educational lead magnets is that useful lead magnets are a quick fix, whereas educational ones are for people who are interested to find out more about your subject in the long run.
Sometimes, though, your lead magnets can just entertain. When we mentioned what makes a good lead magnet, we advised you to use materials that would offer a solution to an issue. Well, sometimes that's not the best approach.
Entertaining lead magnets can help prospects get to know you with something that is going to pique their curiosity and get a hold of their attention. Once your prospects know you, it's a lot easier to sell to them because you have already established a relationship.
Usually, lead magnets tend to bring your prospects to a state of evaluation of your product – i.e., the middle of your sales funnel. However, in this time and age, sales funnels are no longer linear. Sometimes, you'll just want to grab your prospects and place them directly at the bottom of your sales funnel by using more direct material – an example is a free trial for your service.
Some companies like to build a community around them to encourage purchases. This is a strategy that, unlike what you might think, does not always revolve only around social media. A great example of a community-building lead magnet is a challenge.
Let's say you're selling yoga mats. An idea for a good lead magnet is to invite all your website visitors and social media followers to participate in a 30-day yoga challenge – the goal being to practice yoga every day for 30 days. This is one of the best examples of lead magnets based on community building.
This type of lead magnet allows you to group together people who are interested in your product (in this example, yoga mats), and you're giving them a good reason to try it. Perfect scenario to sell!
Examples of Good Lead Magnets
Now that we've explained thoroughly what lead magnets are and how to use them, we'll give you examples of how to apply what you have read. Follow us on this list of the best lead magnet tactics!
Checklists
Checklists are great to share and they're extremely easy to use by your prospects. Let's imagine your product is related to GDPR. Create a GDPR checklist that is easy to put into practice and offer it as a pdf in exchange from your prospects' contacts. Voilà! You got yourself a useful lead magnet.
Convertful uses the exact same subject for a checklist you can download:
Cheatsheets
Cheatsheets are similar to checklists in the way that they are meant for users to come back to them regularly. Usually a cheatsheet is a sort of useful/educational resource that helps you perform a task that you have to do very often.
As an example, FontAwesome has a great icon cheatsheet for designers and developers alike. Imagine if they were to collect the contacts of all the people that use it daily!
Guides
A guide involves a little bit more of planning and requires more time in order to come out right. Gather all the knowledge you have about something related to your product or service and offer a comprehensive guide.
SERPed uses this type of lead magnet in an opt-in in their blog posts. The opt-in is naturally inserted in between the content, without the need for a pop up. This way, users don't feel pushed to perform an action but do it naturally instead since the guide is relevant for the article they're reading anyway.
Toolboxes / Lists of Services
These might take a while to compose, but once done, they're highly useful and effective lead magnets. Lots of websites offer them without unleashing the power they hold for getting leads. Toolboxes offer several services that are related to your product and related between themselves.
This is a kind of lead magnet that works better for products that belong in a very specific niche, like the example we show below: a company that sells laboratory supplies offers an online scientific calculator and many other resources.
Templates
Who doesn't like the good old template, ready for you to fill it out and use? This might seem like it's not a very impressive lead magnet, but it all depends on how you use this tactic.
As an example, email marketing company Litmus offers HTML email templates for several different occasions – like abandoned carts, welcoming new users or customers, and many other reasons why you would send an email to a customer.
It's a useful offer for many types of businesses and your prospects will love it. You just need to make sure it works all right and is well written, and there you go.
Free Plugins
Another example of a useful lead magnet is to offer a free plugin that helps your prospects with some task or gives them some information about the website they're visiting. These plugins are usually easy to install and can automate daily activities.
Convertful offers a WordPress plugin that helps your users install opt-in pop-ups on their websites. You can offer a plugin for Google Chrome instead, or any kind of plugin that comes to mind, depending on your target audience and what your product offers.
Newsletters
Even though most people won't subscribe to a newsletter for the sake of it, if done right it can still be a useful and powerful lead magnet.
Your newsletter could range from a few curated articles related to your business – interesting news for your prospects – to sharing pieces of content from your blog that are educational for your subscribers.
A good example of a newsletter offered as a lead magnet is RemoteOK's subscription bar at the bottom of every page:
This is in your face but yet at the same time it is unobtrusive. It does not withdraw your attention from the main content, but is still easy to see as you navigate the website. It's a perfect example of a good lead magnet – you can tell it's there, but it does not bother you as a user. In fact, in this case it is highly pertinent.
Launches and Releases
Depending on your product, offering to send an email whenever you launch something new – a new feature, some improvement to your current functions, any change – could be a great lead magnet for the bottom of the funnel.
This strategy is aimed at people who have already heard of your brand through other customers of yours, but still aren't too sure whether they should subscribe (this works perfectly if your product is SaaS).
By showing off a new feature, you give your doubtful prospects more reasons to consider subscribing. Omnikick set quite a good example by offering updates on their most recent launch.
Ebooks
This is the perfect lead magnet because it can be useful, educational and entertaining, if done right. First of all, you need a subject that is related to your product and about which you can speak with expertise.
Then, put all your years of experience into a comprehensive guide that is long and detailed enough to be distributed as an ebook, but yet is easy to understand even for beginners in the field.
The rules of writing for everyone apply here. You'll want your ebook to be accessible to all your prospects so that they will feel your email updates are relevant and your product is useful for them.
According to Hubspot, 27.7% of marketers use ebooks as lead magnets. However, remember to keep your ebook length in check. People who download ebooks want to learn but have a limited amount of time that they can spend on learning.
A good example of an ebook lead magnet is this one from AdEspresso:
Reports, Studies or Data
A report presents information in a format that allows your prospects to get actionable insights without having to dig through layers and layers of data. Of course, you can offer raw data as a lead magnet as well, depending on the type of users your product or service attracts.
Studies can also be presented as lead magnets, as is the case with white papers. Again, you should only use this type of lead magnet if you think your users will be able to make use of that content.
Social Media Examiner has been constantly updating and sharing its 2017 industry report on social media marketing, which is highly targeted towards their audience and remains relevant for social media marketing enthusiasts.
Closed Groups on Social Media
This is a special type of lead magnet that is based on social media. You can offer an invitation for a closed group on Facebook, LinkedIn or Quora through your website. In this group, the discussion revolves around a subject relevant to your product.
Using this lead magnet is especially easy if your product is something like, let's say, an email marketing service. You create a closed group about email marketing in which all of your prospects can ask questions and learn a bit more about the subject.
The strategy is to limit your invitations to people who actually ask you to be there and then act as a moderator in the group. You only need to make sure that the group is safe and that discussion is not led astray to profanity, non-related subjects, promotion of other brands… you get the idea.
What do we mean when we say you should be a moderator? It means this type of group is updated by its members, so you only need to stir the pot every now and then to make it interesting and relevant.
A moderator's role is to publish every now and then, keep the group active and at the same time allow its members to have a certain sense of control. That's going to be your job in this lead magnet.
It's a long term effort, but it keeps on giving. As you invite more and more people, they share the invitation with colleagues and you get more customers in the process. Social media is not just a means of getting brand awareness if you know how to play it right.
Video Courses
A video course involves production efforts and it's not something you should consider unless your company has the means for it or the budget to hire a consultancy team for it. You might know what you want to say in your course, but presentation is key in videos.
You don't want to seem amateurish. After all, remember one of the rules of good lead magnets: they are something for which your prospects would be willing to pay for if you weren't giving it away.
However, having the means to do it right, it can be a powerful lead magnet. Video courses are easy to follow through, being at the same time an educational and an entertaining lead magnet.
Live Webinars
If you don't have the resources to do a video course but would still like to communicate with your users through video, you can always do live webinars. This lead magnet is simple: you ask for your users' email so you can send them a link to the webinar.
This type of lead magnet is easy to create in technical terms. All you have to do is set up the webinar room on Zoom or a similar platform (Zoom is free, by the way) and automate the emails from your opt-in form to send the link for the room and the schedule of the webinar.
In your email, you can pique your attendants' curiosity as well by sharing a few topics that you're going to talk about in your webinar.
Email Courses
Now, if video is not an option but you have content that could be turned into a course, you can always shape it into an email course.
Users subscribe and then receive the materials over a specified period. It's important not to send too much at once so that you don't overwhelm your prospects. Distribute your content evenly along a timeline you have decided on previously.
This is a great educational lead magnet because of how easy it is to set up and how it can create a relationship between your company and the users. You just have to automate the emails to be sent in a specific order with the right waiting time in between, and that's it.
Rick Mulready specializes in digital marketing training. How does he get his prospects to turn into customers? He gives them a free email course, no strings attached. Users who love this course will want to sign up for more.
Tests and Quizzes
These are entertaining lead magnets. Once again, presentation is crucial, but we're using this warning in a different way.
What we mean with presentation here is the way that you will get your website visitors to download your quizzes. It's essential to bring out the know-it-all that's inside them: if your company sells art supplies, you could create a quiz about visual arts and artists.
Increase your difficulty level as your users move through the test, but don't make it too hard. You want your users to feel good, not to frustrate them. At the same time, you should include not-so-well-known facts that could induce conversions by showing your users that there are still some things they do not know.
Forbes has a quiz that helps you pick the right college for you. This is entertaining but might be useful for indecisive users who are at that point in their lives.
Free Shipping
This resource is often used by e-commerce companies. This is one of the most common bottom-of-the-funnel lead magnets and will help you sell easily if you have physical products to sell online.
Discount or Bonus with First Purchase
This is common in e-commerce as well. Get your visitors to buy from you by offering a discount on their first order. Uber Eats does this with their users that created an account but never made an order.
Free Trial or Demo
If you're selling a SaaS service, the way to go is to offer a free trial. It can last for as long as you want it to, but we recommend a 30-day free trial so users have enough time to try and test all the features of your product.
We do precisely that on our website and it works for us:
Free Consultation or Quotation
If your services are tailored to suit different situations or conditions according to what your customer needs, offer to talk to them about it, even if it's just through chat on your website.
By getting your users to talk about what they need, it's easier to propose a solution that offers them exactly what they are looking for.
Liberty Mutual does this in a very simple way: to begin, all you have to do is enter your zip code.
Wrapping Up
There's no way to avoid it: lead magnets should be a part of your strategy to get more leads, and, consequently, more conversions. Even those that claim that lead magnets are dead are still looking for evergreen lead magnet opportunities.
Probably you were already doing it even before you knew what a lead magnet was. However, understanding how a lead magnet works is essential to its performance.
First of all, you need to know your audience. A lead magnet has to be adequate; it has to match the needs and desires of your prospects. How do you know this? You might have a target audience and end up being of interest to a different demographic profile.
Try conducting surveys with your current customers to figure out a sketch of what your ideal customer should look like on paper. Always check the reports for your email campaigns (link to email marketing analytics article) to understand which subjects resonated better with your customers.
You should also have some sort of tool that provides you with a heat map for your website, like Hotjar. This will help you understand where in your website you should have your lead magnets.
Some websites have their lead magnets on the sidebar. Many people recommend putting them above the fold, but what works for your website might be a pop up instead. Having a heatmap that shows you where people click the most will help you figure out what's best for your specific case.
No matter how confident you are about your lead magnets, you should always test different settings and different lead magnets. You can combine several of the ones we showed you – in fact, you should! Just don't overdo it, of course. Your website cannot be a collage of lead magnets or people won't understand what you want them to actually do.
So, as always, balance is the key. Remember to study your customers closely, pick your lead magnet types accordingly, and your strategy should be successful. And never stop optimizing. What is good can always get better!
Engage and lead your audience through every step of the customer lifecycle
Platform.ly - the next-gen marketing automation platform
Learn More