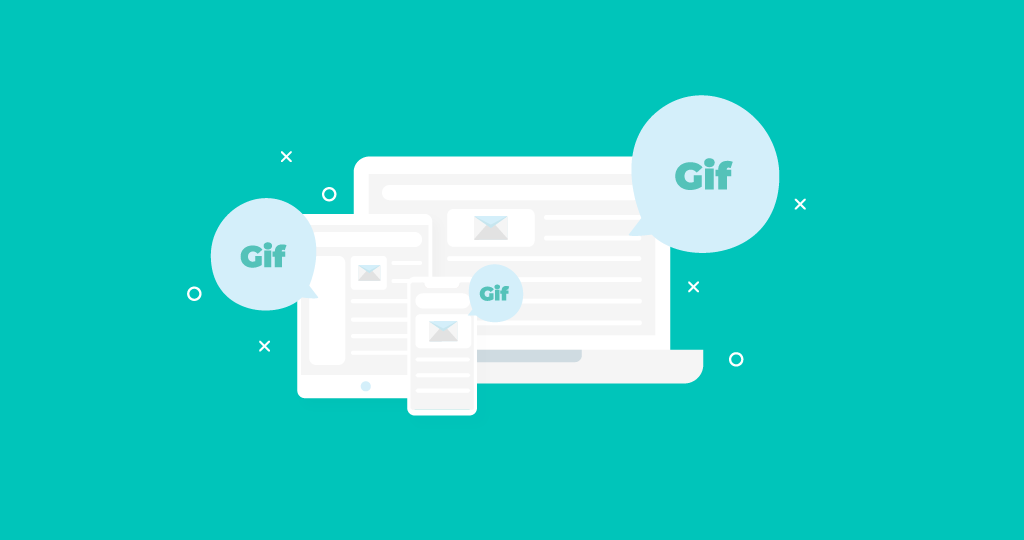 Are you looking for ways to make your email marketing messages stand out from the crowd? Gifs can help you make your messages more interesting and fun, by adding a visual effect. After all, visual information is processed 60 thousand times faster than words. At the same time, gifs are smaller than videos, and shorter in duration, which makes them easier to process and they will load faster than videos, on any email client.
Gif emails also help you capture and hold the attention of your recipients. You can be engaging and entertaining without taking up too much of your users' time. They are a perfect example of fun visual content. For example, on Twitter, almost every single thread includes gifs to describe reactions.
So, in this article, we'll go through nine great examples of the best way to use gifs in your email marketing campaigns. Let's get to it!
1. ShoeMint
In this example, ShoeMint matches a gif perfectly with its written message: "c'mon, get happy". The email gif makes you smile and conveys the happiness the brand wants you to feel by using a cute swaying effect. The fun colors of the socks also contribute to the message, with funny patterns that make you want to order a pair straight away.
2. Converse
Advertising their new monochrome collection, Converse uses a gif to show the various available colors in their customizable models. The effect of this gif email is extremely appealing to the senses, using bright colors and monochrome sneakers with a background of the same color.
3. Bed Bath & Beyond
Sometimes, gifs can be useful as well, as this example from Bed Bath & Beyond shows. By showing how you can roll up their Ziploc space bags and roll them back out, they make their product more appealing, as it's easy to understand the purpose of the bags immediately. This gif might not be as visually appealing as other examples in this list, but it helps recipients by showing the exact benefit of the displayed product.
4. Harry's
Another great example of how you can use gifs to convey a specific message is this limited offer from Harry's. The clock hands spin quickly, showing recipients that time is ticking so they should make use of the offer while they can, before it's over. The fast-moving clock conveys the urgency that the text reinforces, making this gif a perfect example of how to combine visuals and text.
5. American Apparel
This is a gif that is highly appealing, and, at the same time, matches the written content, complementing it. The brand uses the visual to reinforce the message that these t-shirts were washed (mimicking the effect of 40 washes at home) to make them softer. The image of the t-shirts displayed in a circle resembles the inside of a washing machine spinning, adding to the meaning of the gif.
6. Lyft
This example from Lyft is the perfect match between useful content and entertaining visuals that keep recipients entertained. The gif shows precisely what the app does, and how. It is a real-life example of how anyone can use the app to get a ride, from searching for a vehicle to the end of the trip. The moving car adds a useful element to the message without being boring – rather than just showing a few prints, this is actually showing how easy it is to use the Lyft app.
7. Sprout Social
In case you're wondering about SaaS business examples, this one from Sprout Social shows another way you can use gifs to add to your written message. Just like the Lyft gif, this one shows a few examples of how you can use the Sprout Social app. It is highly useful and helps to convince recipients that they should be using the app if they are not doing so already.
8. Litmus
Litmus used a gif to show what users can do with their new Scope feature. This is a highly effective way to explain how recipients can improve their own email marketing strategy using this feature. The gif simplifies the feature and loads a lot quicker than a video. Gifs start playing immediately after images are loaded in the recipient's email client.
9. Chanel
The last example in this article uses a beautiful design to show off their triple row watch. It's difficult for anyone not to feel pleased with how the gif plays – and this appeal is likely to encourage purchases. Who doesn't like sophistication and class?
Using gifs on Platformly
In Platformly, you can add gifs using both the email editor…
…and email builder:
This way, you get to use the gif strategy for your emails sent through Platformly. We promise you, it's going to be worth it!
Wrapping Up
As we showed in these nine examples, there are numerous ways you can enhance your email marketing using gifs. They can make the difference between a boring message that gets ignored and something entertaining that improves your conversion rate. Furthermore, gifs can be used in any industry – from fashion to SaaS, every kind of business can benefit from a fun approach in their email marketing.
If you use Platformly, you can improve your emails easily using gifs both on our email builder and email editor. So, no matter your favorite method to create an email template, gifs are easy to add to your messaging.
Fun is especially important in times of worry and uncertainty; of course, there are certain things you don't joke about, but it's when things are difficult that we benefit the most from a good laugh. So, what are you waiting for?
Engage and lead your audience through every step of the customer lifecycle
Platform.ly - the next-gen marketing automation platform
Learn More