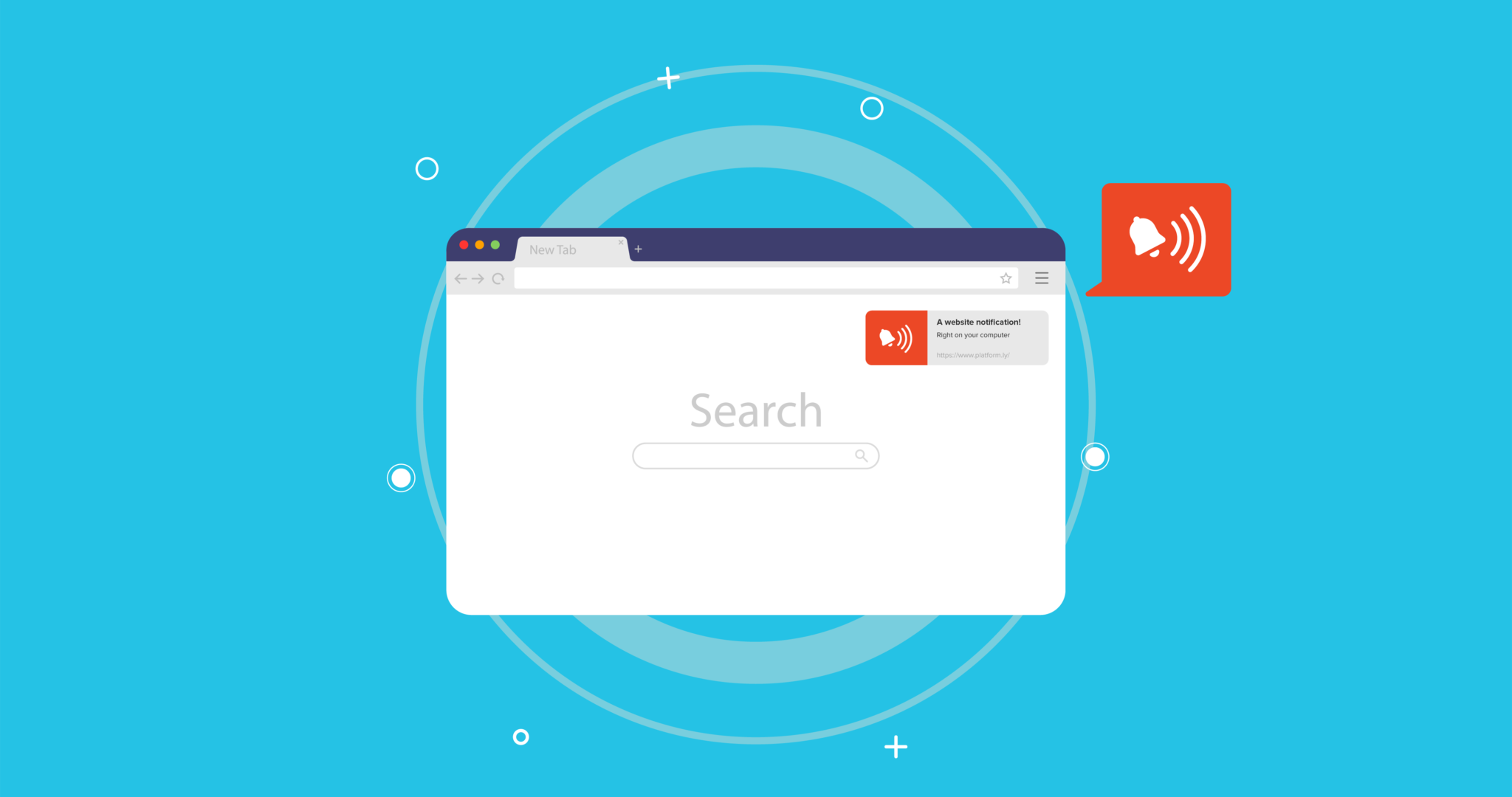 Today we are super excited to announce the release of a highly requested feature: Push Notifications 🔥 which are included in your Platformly membership, at no extra cost.
What are Push Notifications?
Push Notifications are clickable pop-up messages that appear on users' browsers irrespective of the browser they are on. They serve as a communication channel enabling you to convey messages, including special offers, to your audience.
Please note that Platformly Push Notifications are available in all popular Web browsers, except Safari, on desktop and laptop computers. In other words, they are currently not available on mobile devices like smartphones and tablets.
Here is how you can use Push Notifications in Platformly:
Step 1 – Activate Push Notifications
Click on your profile picture at the top right of the members area. Then, click on "Setup". Under the "Projects" tab, click on the 3-dot icon on the right of the Project in which you want to enable Push Notifications. Finally, click on "Push Notifications".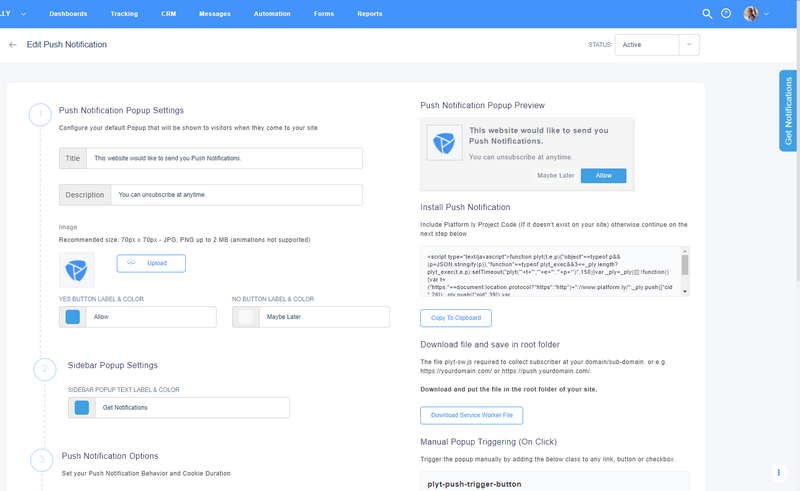 From this page, you can Activate or Pause Push Notifications, as well as change several settings. For example, you can change the text in your default notification, as well as upload a logo, change the cookie duration and more.
On this page, you will also find the code that you need to embed in your site, as well as the file that you need to download and then upload to your server. Don't skip this step, otherwise your Push Notifications will not work.
Once done, you may proceed to the next step. Don't forget to save your changes before exiting this page.
Step 2 – Create a Push Notification
To create a push notification, select a Project from the drop-down list, open the "Messages" menu and go to "Push Notifications". Then, click on "Save Push Notification".
Then, simply fill out the form:
Notification Name (internal use only)
Notification Title (max. 50 characters)
Notification Message (max. 135 characters)
Notification URL
Notification Icon Image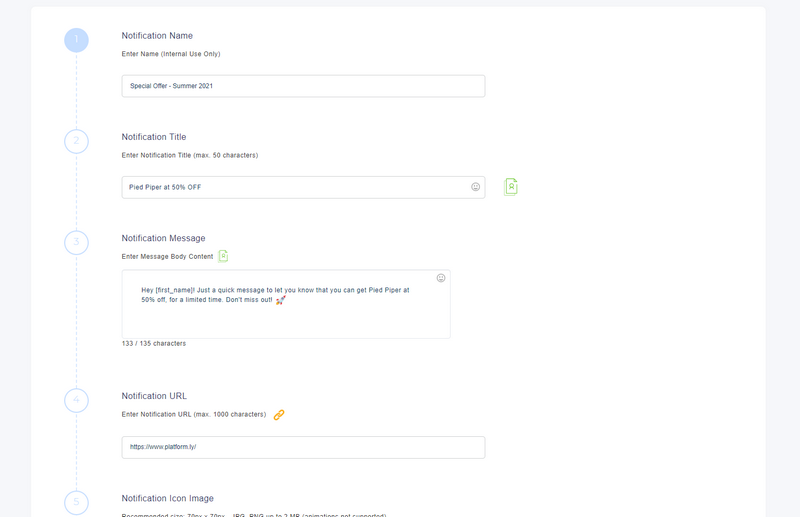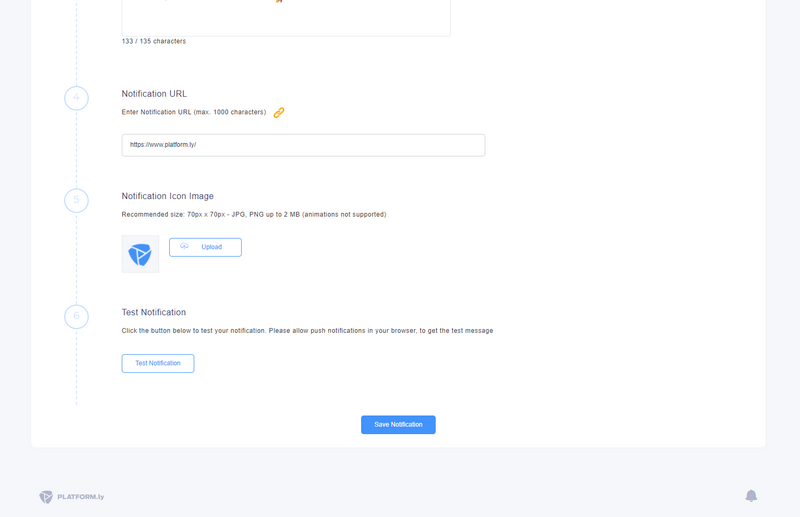 Then, click the "Test Notification" button to make sure everything is fine. Your web browser will ask you whether or not you want to allow Push Notifications, if not already done.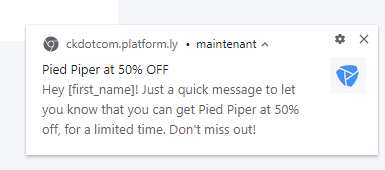 If everything looks alright, click on "Save Notification".
That's it! You've just created your first notification.
Please note that you can see all your existing notifications in the "Messages & Stats" section, under the "Push Notifications" tab.
Step 3 – Send a Push Notification
Open the "Messages" menu and go to "Push Notifications" again. This time, click on "Send Push Broadcast". Then, click on "Send an Existing Notification".
Then, select a push notification you previously created and check each step.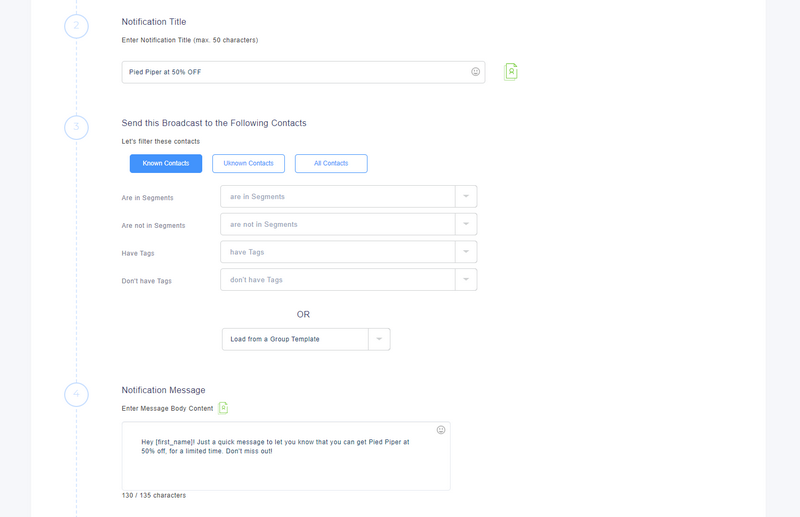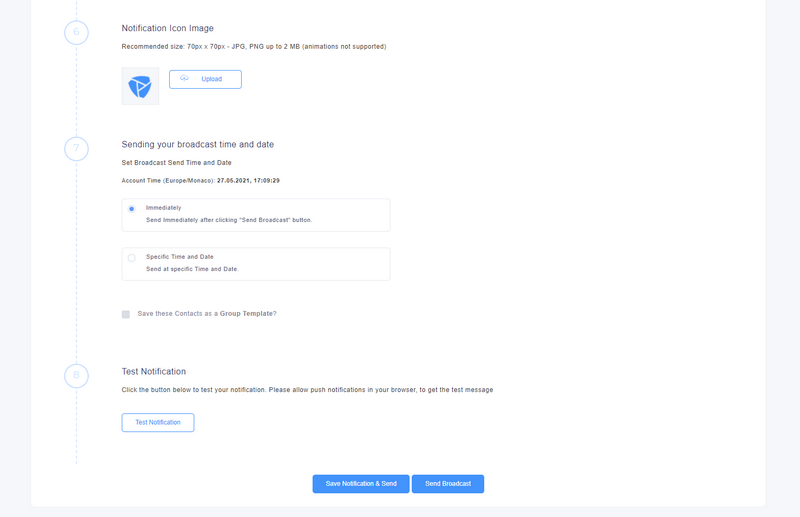 On Step 7, you have the choice between sending the broadcast immediately, or scheduling it at a later time. If you choose the latter, you can select a date and time. You can even choose to send the broadcast at a specific time, in the user's time zone.
Then, click on the "Test Notification" button again, to make sure everything is fine. Finally, simply save and send/schedule, or send/schedule without saving.
That's it! Then, users who allowed you to send them Push Notifications will receive the notification, irrespective of the website they visit.
If they don't have their Web browser open at the date and time you selected, the notification will appear the next time they open the browser. The expiration time for the notification is set at 28 days by default.
Speaking of subscribers, you can see who subscribed to your Push Notifications in the "CRM" section, under the "Push Notifications" tab, as shown below:

From this section, you can see tokens, as well as delete them, if you want someone in particular to stop receiving Push Notifications from you, for example.
Finally, if you open a contact's activity feed, you can see specific actions such as clicks, as shown below:

Push Notifications are a great way to communicate with your audience, so make sure you give this feature a try.
➡️ Click here to log in and check out this new feature.
Not a member yet? Sign up now… If you have questions, suggestions or feedback, feel free to leave a comment below. We would love to hear from you!
Remember you can also find us on Facebook, Twitter, and LinkedIn.
Engage and lead your audience through every step of the customer lifecycle
Platform.ly - the next-gen marketing automation platform
Learn More