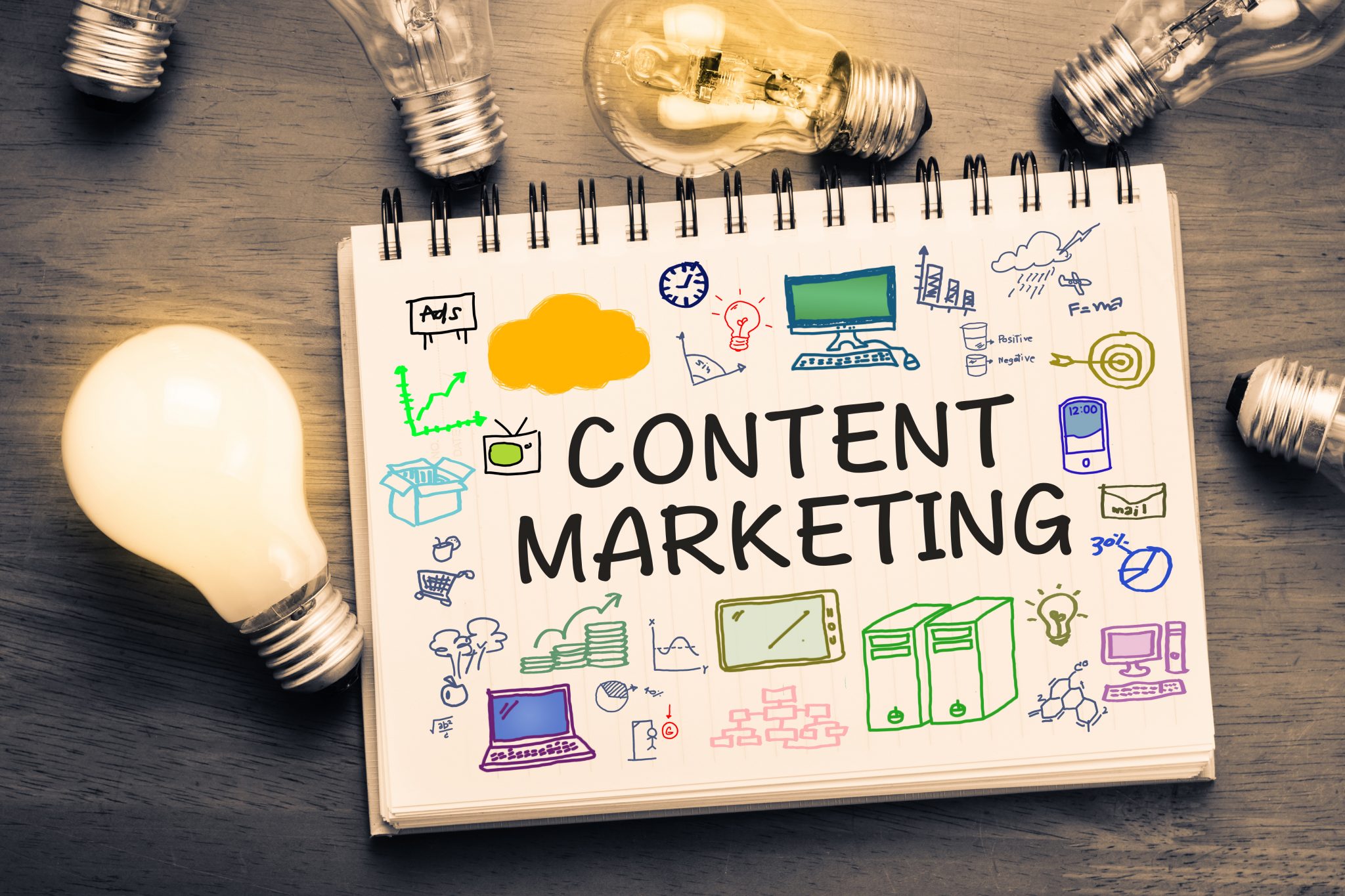 The goal of content marketing is to attract and engage an audience via relevant and valuable content to generate interest in a brand's product or services. However, without a strategy to drive conversions, content marketing results in wasted resources.
Numerous strategies can be used to amplify your content marketing's effectiveness and double your conversion rates. Such strategies aim to ensure that the content you create is engaging, relevant, and timely for your target audience. 
Let's take a look at five of the top strategies you can use to ensure your content drives quality conversions.
1. Start with a Compelling Headline
The first thing your readers notice about your landing page content or blog post is your headline. Depending on how captivating your headline is, they will either bounce or continue reading the piece.  
Your content's headline should be impactful and define what your piece covers in the fewest words possible. If it does need more context, however, add a brief explainer after a hyphen or colon. 
Also, try using phrases or words that will likely convert. A study by WiderFunnel showed that words such as "because," "new," "free," and "instantly," can help boost conversions. 
Writing a killer headline can require a few tries. Write 5–10 potential headlines and use tools like Advanced Marketing Tool or CoSchedule to analyze how each headline will boost your conversions. How do headline analyzers work? Each tool focuses on different factors to score. For instance, we analyzed the headline for this article with IsitWP.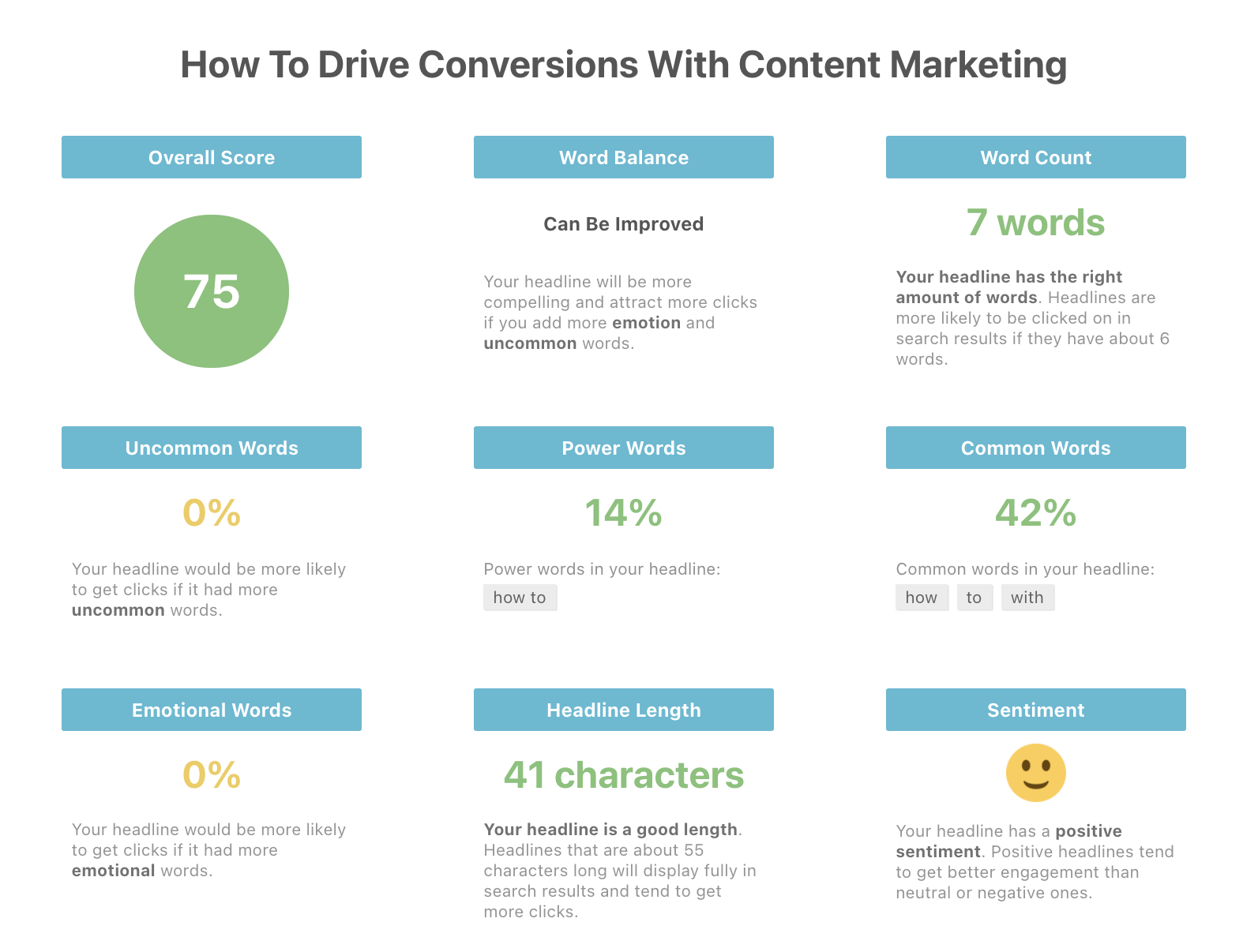 You can see that the tool takes into account different characteristics such as common words, word count, power words, sentiment, and SEO, and gives an overall score. Generally speaking, a score of 70 and over is considered good for engagement. 
If you want to check the emotional impact of your headline, use the Advanced Marketing Tool, which ranks headlines according to the emotional value. For instance, the headline for this piece—How to Drive Conversions with Content Marketing—got 42% as its emotional marketing value score. That is above the average score of the emotional marketing value of most headlines penned by professional copywriters. 
Most tools will give you access to a version history, where you can compare different headlines. After you've analyzed your list of possible headlines, pick the one with the best score to drive conversions.
2. Captivate Your Audience with Your Introduction
Great, your headline attracts readers, but what happens when they read your intro? Your intro should be just as captivating. Think of your headline as the bait and your intro as the hook. 
In blog posts, your first four sentences are considered the introduction. These first sentences need to be concise and transparent as to how the audience will benefit from the piece. Why else would they continue reading? 
A great introduction engages the readers into reading the rest of the article. While the first four sentences is a general rule, it is not written in stone. Sometimes a longer introduction works best. Other times a short subheading is your introduction. 
Your introduction should start with a great first sentence; most people will decide whether or not to read your content based on it, so spend time crafting a great hook. 
5 tips for a great introduction:
Ask a question – this will tease the reader into wanting to find out more. 

Start with a story – people love stories and connect to them. 

Provide facts – adding statistics and facts can drive reader interest in your article. 

Add an interesting quote – this will add credibility and build your authority. 
3. Visuals Are Crucial
Including visual elements with written content can significantly boost the article's performance. Visuals compel and engage your audience while increasing the quality of your content at the same time. They're also a great way to reduce huge chunks of text, making your piece easier to understand and more likely to be read through. 
Classic research by Chute and Digiday revealed that 20.3% of marketers stated that visual content is three times more powerful than text pieces, while another 19.5% said visual content is four times more effective.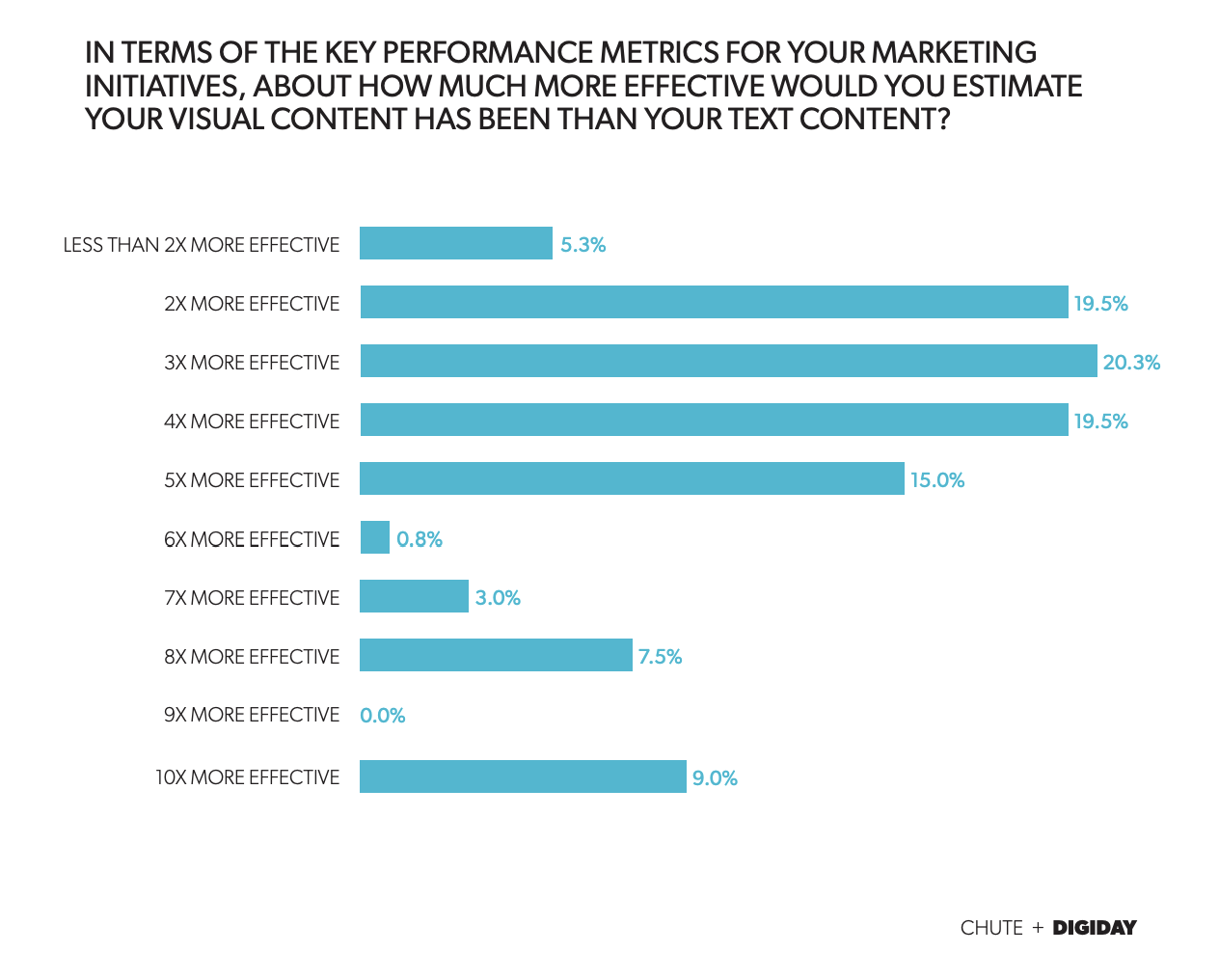 That's not all—32% of marketers stated that using images is the most crucial part of their content marketing process. 
However, what makes visuals effective depends on the content type you're crafting. Let's look at five kinds of visual content you can use to drive conversions.
Original Visuals
Including original visuals in your content tells the reader that your piece is unique and you invest time to craft valuable and original posts. 
You don't have to hire an in-house designer. A tool like Canva can help you create stunning original graphics. Original visuals work best as featured graphics for blog content. Try to create something captivating and relevant to the topic.
Statistical Graphs and Charts
If you're quoting statistics or studies to strengthen your arguments, include graphs and charts to boost validity. You can include just a link to the data source, but most readers are more interested in getting their information in one central piece of content rather than having to navigate to another website, from which they may choose to navigate to yet another website. This pulls them further away from your site and your content marketing conversion strategy. 
Adding graphs or charts to your content also makes it easier for people to process your message.
Explanation Screenshots
When you're explaining a process or steps for something, screenshots are a great way to boost your content quality. Screenshots often explain things better than words and can make the info easier to absorb. They are also good for showing things like how-to tips for particular tools or to visualize a strategy in action. 
Screenshots can also work as proof of your content's text claims. 
Infographics
Perhaps you've carried out research or compiled valuable data and are wondering how best to convey the information to your audience. The truth is, complex data is difficult for people to understand when it's presented using only words. 
In such scenarios, you can design an infographic to present complex information as captivating visuals. Tools like Infogram and Piktochart can help even beginners to create infographics. 
Infographics also work great for repurposing old blog text content. Just pick out your best-performing articles and transform them into a visual presentation that highlights key points. Then use those key points to create infographics. 
Videos
Video content is becoming increasingly popular, and for good reason. Video fills in when text and images are insufficient for explaining the benefits of your offer. Moreover, adding video to your page drives more engagement. 
So, to enrich your content, try adding short explainer videos to your landing page or blog posts to increase conversions. You can even include video reviews and testimonials from clients or influential personalities. 
Crazy Egg, for instance, saw a 64% rise in its conversion rate by adding a video to its homepage. The video content was the same as the text on the page, but it engaged people much more effectively with its audio-visual format. 
4. Avoid Huge Chunks of Text
Another vital consideration that directly affects your content marketing conversion is your content format. You may have relevant information and tips that your audience would love, but writing them down in large text chunks makes it tough for your visitors to read and fully understand the information. 
Unnecessarily wordy text can ruin your content marketing conversion rate because readers will be unable to process what you're saying. Readers can also be turned off by poorly organized content. 
To make your content understandable and maintain engagement: 
Break up huge chunks of text into

smaller paragraphs with 4 to 5 lines

. 

Utilize

bullet points

to highlight your major points.

Include

visual elements

to elaborate on your points and reduce your word count.

Use

subheadings

when possible to break up text into sub-topics to provide better understanding, readability, and help to guide the reader along. 
5. Use a Compelling Call-to-Action (CTA)
Your CTA should convince readers to take a particular action at the end of your content. For example, it may ask visitors to subscribe to a newsletter, sign up for a demo, or purchase a service or product. 
It's important to state that CTAs aren't for text-based content only. Video content also requires a call-to-action to drive conversions. You must make it clear what you want visitors to do, so ensure that your CTA is actionable by starting the sentence with a verb. 
For example: "Sign up for a free insurance quote today." or "Download your free eBook now."
Be concise and direct. 
As Jay Abraham, the legendary marketer said: 
"Sometimes the best copy to sell a horse is 'Horse for Sale.'"
For landing pages, stick to five- or six-word CTAs. Focus on how readers will benefit from acting on your request. In other words, what they'll get. 
Use the power of urgency with words like "exclusive" or "custom."
You can also highlight the benefits of the action with terms like "save" and "free."
It's not feasible to include all these ideas in one CTA, use variations of your call-to-action. Then implement an A/B test to find out which one generates more conversions. 
Types of Content and When to Use Each
Content marketing is not limited to publishing blog posts. A content marketing strategy should include different types of content:
Articles and blog posts

. These demonstrate your expertise and create interest in your brand.

White papers and ebooks

. You can use them as freebies to add subscribers to your list and generate leads. 

Newsletters and email sequences

. These can nurture your audience and convert with offers and direct links to landing pages. 

Social media posts

. Your social media strategy not only generates brand recognition, it keeps you top-of-mind and directly can convert leads through shoppable posts. 
Conclusion
Content marketing is about using your content to drive audience engagement, create trust, and produce conversions. The above strategies are powerful whether you're a seasoned expert or a newbie marketer. Use these methods to enrich your content and make it relevant and visually appealing to engage your target audience, and increase your conversion rate. 
Engage and lead your audience through every step of the customer lifecycle
Platform.ly - the next-gen marketing automation platform
Learn More